Description
The Bosch Colt(TM) variable-speed palm-grip router with 1.25 horsepower (max) lets you feel the power in your hand. This Bosch Colt palm router has an ergonomic palm-grip design with a soft grip that makes it more convenient to use than larger routers. Far more than a laminate trimmer, it is the ideal tool for rounding-over deck planks and railings, hinge mortising, decorative edge forming, slot cutting, laminate trimming, working on window cutouts, decorative inlays and more. The motor features soft-start circuitry, a variable-speed dial and Constant Response(TM) circuitry to maintain speed under load. Its fixed base features a micro-fine depth adjustment and a round subbase that can be centred for easy guidance. The Colt palm router package includes the router, self-releasing collet chuck and a comfortable forged collet chuck wrench.
Product specifications
Opening: 1 9/16" (3.97 cm)
Adjustable up to 1 3/16" (3.02 cm)
Keyless Blade Clamp (Y/N)
Frequently bought together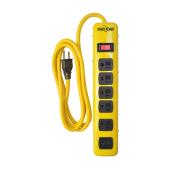 YELLOW JACKET
6-Outlet Power Bar with Surge Protection - 6' - Yellow
Format 1.8M
Details
Article #32045053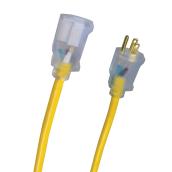 WOODS
12/3 Extension Cord - 25' - Red
Format 12/3 25'
Details
Article #74045239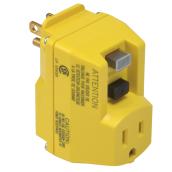 YELLOW JACKET
Single Outlet Portable GFCI Adapter - 1800 W - 15 A
Details
Article #32045050
Can the colt 1.25 be used with the plunge attachment used on the 1 H.P. Colt router?
No it cannot. Bosch is releasing a plunge base this year for it. 
Date published: 2020-09-08
Can this router be mounted upside down under a router table top?
can this router be used with the milescraft 1222 hingemate 150 you sell to mortise for door hinges and jambs
I bought this router a month ago. Arriving home with it I discovered it does not have a soft-start feature. I have a larger router with soft-start and it doesn't move a millimeter on start-up. This colt gives a big jerk obviously starting at full load.
What's all included with this? Is there a carry/storage case?
Colt(TM) Variable-Speed Palm Router Kit - 1.25 HP MAX
is rated out of
5
by
37
.
Rated

5

out of

5
by
Firedawg2154
from
AWESOME
This router works like a dream. Bosch addressed the issue of poor bit depth adjustment of the older model. With this newer model, bit depth adjustment takes seconds. Unlock the router, set it to the depth, use the micro adjuster for precise depth, lock it, and then get to work. The LED light is also a nice touch. It's nice to have the extra light. I think the price is well worth the cost of not having to deal with the old bit depth adjustment of the older model. I was able to pick up the newer model on sale and had a coupon which made the deal even sweeter. As of right now, definitely a 5 star product. I'll update my review if anything changes.
Date published: 2017-11-28
Rated

5

out of

5
by
NHWW
from
Should've bought this first!
I sort of went overboard thinking I needed the large plunger based Bosch and ended up buying this on top. Of course I use this Colt more than the larger unit and will likely end up putting the large router on the router table which I still haven't set up. I love the light and also how comfortable it is to hold. The variable speed control is a very nice feature and swear by Bosch's quality with their routers. I could just use this to route the edges easily and doesn't seem to spread the sawdust all over the area either (obviously dust collection or any downdraft table would definitely help). Highly recommended!
Date published: 2018-04-20
Rated

5

out of

5
by
BoschforLIFE
from
The Colt Just Got Better
I've had the first Bosch colt router over 5+ years and it's been my go to router on job sites or at home. When I heard that Bosch was coming out an upgraded replacement. I was excited! I've never had problems with my older colt or any issues at all. When I saw that Lowes had the new one in stock, I emmidiately went and got it. Well folks! This little beauty is a work of art! LED light, soft start and more power! What more can you ask for! I've been using it and I must say. I am impressed. For all you DIY and woodworking professionals. All I can say is that you won't be disappointed. Not one bit. Be selfish and go out and buy yourself one. You won't regret it.
Date published: 2017-12-29
Rated

2

out of

5
by
George
from
Overheat Issue
I bought this router yesterday. I use routers for my hobby of sign & picture making. Within 5 minutes of use, the router became very hot. I was making a simple design using a Whitesides SC50 bit to acclimate myself to the router. I have not read any reviews mentioning an overheating issue. I posted a question in the forum for some feedback. The router performs great. I really hope it is just a defect in the one I purchased. I will use again today and return for a replacement if needed. Can anyone from Bosch relay any thoughts on the issue? I will update my review if/when the heat issue is fixed. [This review was collected as part of a promotion.]
Date published: 2019-05-05
Rated

5

out of

5
by
jack
from
Perfect Handheld Router
I much prefer this to the dewalt hand router. The Bosch is more stable and easier to hold and control. It feels perfectly comfortable and stable in the hand. I never felt I had a gryphon the Dewalt. The new LED's and motor and adjustments are excellent!
Date published: 2018-05-16
Rated

5

out of

5
by
Sais52
from
Good quality compact router
I have a full size Triton plunge router but it is too large for some jobs, especially trim work. I found this router when looking in Lowes and the size, weight and hand feel were all positive. Since I've used it I found that it's quite powerful. On one job I chose to take a first run to remove some wood before adjusting to the depth I wanted for the second run. Looking back on that I think I could have done it all in one cut, but I'm still getting comfortable with this tool. The tool has some heft that makes it easy to control.
Date published: 2018-05-08
Rated

5

out of

5
by
NOODLES
from
An Absolute must have
By looks it shouldn't be able to do what it does, I just cut 1/2 inch rabbits that were flawless with no bogging, I could keep the base on contact easier than full size router. I was able to one hand operate in a tight corner, switch location once gotten used to was no issue. This is a spectacular router!
Date published: 2018-02-16
Rated

5

out of

5
by
GiJoe22
from
Good
Just did some dados works great
Date published: 2018-02-06