Description
The Bosch CCS180B 18V 6 1/2" (16.5 cm) circular saw easily cuts through 2" material, including wood and decking, for professional cuts in difficult areas. It features an ergonomic main handle/angled for ease in pushing the saw forward. The cordless saw includes a 50° bevel for added versatility, a simple straightforward depth gauge and bevel scale, and an anti-snag lower guard to ease into the cut. Blade left design supplies best view of cut line when main handle is held in right hand. The dust blower helps keep saw's cut line visible and free of dust. With a weight of only 6.6 lb, this power saw is an excellent choice pros such as roofers, framers, or deck-builders who often have tough cuts in close or difficult spaces. An electronic brake stops the blade quickly for reduced downtime between repetitive cuts. The battery and charger are sold separately. Easy blade changes. This saw includes robust spindle lock and on-board blade-change wrench.
Product specifications
(1) 6 1/2" 18-tooth carbide circular saw blade, (1) Allen key
Frequently bought together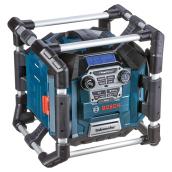 BOSCH
Power Boss(TM) Multimedia Stereo with 360° Sound and Bluetooth®
Format 360DG
Details
Article #19835933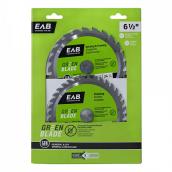 EXCHANGE-A-BLADE
EAB Tool Carbide Framing and Finishing Saw Blades - Green Series - 6 1/2" x 24 and 36 Teeth - Exchangeable - 2/Pack
Format 6 1/2"x24-36THx2PC
Details
Article #34595863
Circular Saw - 6 1/2'' - 18V
is rated out of
5
by
23
.
Rated

4

out of

5
by
Lee
from
Great little saw
I was looking for a battery powered saw and came across this bosch. I'm not a builder but I do woodworking as a hobby. I can tell that it has plenty of power and will run very long with my 6ah battery. I like the brake on it as well. I will need to get used to the safety switch on top and the blade on the left side. Im right handed and although it is nice to see where the blade cuts it is safer to have your keeper on the widest part of the shoe. No matter how you choose to cut as long as you have good safety habits it is a great saw. This saw will fit my needs. [This review was collected as part of a promotion.]
Date published: 2018-08-06
Rated

5

out of

5
by
Nick
from
Fantastic cordless saw
I am surprised that most reviews on this saw are from Bosch.com and not Lowes. I had the "green" brand cordless 6 1/2 saw and it was okay at best. Lacking power and stalling, I needed a better tool. I opted for the Bosch since I have other cordless tools by Bosch. What a difference. Better build, more solid, well thought out, but mostly, power! Absolutely love it. It did cut the same exact 2x6 that the "green" saw could not with the same blade. I am a DIY person, but don't confuse this saw - it is professional grade.
Date published: 2018-02-27
Rated

5

out of

5
by
David
from
Rugged saw
I recently spent the extra money to upgrade to a Bosch cordless saw. I had another brand and I noticed the shoe was getting sloppy and the blade angle was always needing readjustment. I went to Lowes to look at other options. The shoe on the Bosch is really solid and obviously made to stay that way. The safety switch is easy to activate and the depth of cut is easy to read, not just numbers stamped on a plate. The saw weighs a lot more than the other plastic cordless saws, but it is by no means heavy. It was worth the money!
Date published: 2016-09-16
Rated

5

out of

5
by
Mike
from
Perfect for most projects, a must-have for any DIY
Quiet and powerful enough for most cuts, this saw is the 1st one I go for when I'm working outside. Works equally well inside as it's not so loud and grating on your ears. Slap a 4.0 or one of the new 6.0ah batteries on and you can cut all day long.
Date published: 2017-01-19
Rated

4

out of

5
by
YM01
from
Good precision and an impressive power
I got this saw several months ago for my first outdoor project and it is great It is powerful enough to do small jobs around the house and it is not too loud. Being cordless makes it safer, in addition to being more convenient. Not having to worry about dragging around a cord or having access to power outlet is important for me. It is very solid but not too heavy making it easy to carry around. The blade that came with it worked fine for my project. The saw cut through the line of 2 x 4 wood with good precision and an impressive power. Overall. I am happy with the battery life, power, and the quality of this product. It works as advertised, will gladly recommend it! [This review was collected as part of a promotion.]
Date published: 2020-06-01
Rated

5

out of

5
by
Geezer
from
Bosch tough
Need to cut pressure treated wood far from my cabin at the lake. Too far for corded tools. Did the job with power to care. Looking to get the reciprocating saw next. Love my Bosch tools.
Date published: 2016-10-31
Rated

4

out of

5
by
AndrewMichigan
from
Great for a cordless saw
Adjustments and saw baseplate are very rigid and all metal. Some saws are flimsy and do not hold 90° very well, this saw works great. As someone who already has multiple batteries and chargers for the Bosch line, this saw made perfect sense, and serves the purpose of being able to cut sheet goods or trim without dragging around a cord or having access to power. Being that it is cordless, the blade makes a huge difference to drag. The blade that came with it works fine, but I suspect some others may be better (thinner, sharper, different teeth, etc) for different materials. It seems to cut very well, but can bind easily and stall if freehanding thicker stock. The blade attachment has some sort of clutch built in to allow slipping if stuck, but after following instructions, it never activated versus just stalling the motor. Overall I am happy with the purchase as I have needed a cordless saw for some time
Date published: 2017-08-11
Rated

5

out of

5
by
Hattette
from
Great saw
I have 2 of these and use them regularly. It is powerful enough to do small jobs around the house. I probably use the Bosch cordless jigsaw more often, but sometimes you just need a circular saw. It is lighter than most brands, which is a big selling point for me as well. [This review was collected as part of a promotion.]
Date published: 2018-12-05