Description
This ultra-quiet built-in dishwasher from Bosch has a 16-place setting capacity and a 3rd rack that provides the perfect space for silverware and large utensils, while its V shape leaves room below for taller items. The appliance is equipped with FlexSpace(TM) tines that fold back to fit your larger pots and pans, and features a Speed60® cycle that cleans and dries your dishes in as little as an hour. This Energy Star dishwasher also has a 24/7 Aquastop leak protection. Limited 1-year warranty.
Frequently bought together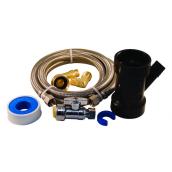 AQUA-DYNAMIC
Dishwasher Installation Kit - 60" Line
Format 60"-1/PK
Details
Article #01735488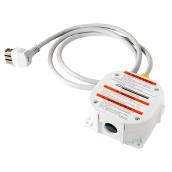 BOSCH
Bosch Dishwasher Junction Box with Power Cord
Details
Article #30855176
The height of this dishwasher is listed at 35 inches, however in the specifications it mentions the height is adjustable.  My opening is 34.25" high. Is this machine adjustable to fit the this height? Regards Roger Hebblethwaite 
No. Hope it helps.
Date published: 2020-05-03
Is this model finger print resistant stainless steel?
Thank you for your question SM236 - This appliance does not include the finger print resistant feature. Hope this helps
Date published: 2020-03-24
How often do you have to change the solid food filter, in the Bosch dishwasher
Hi 1deadeye , you are to clean out the filter and drain line of your appliance every once in a while depending on your usage. You may also want to replace this part every 2 years to prevent any deterioration. Hope this helps.
Date published: 2019-10-11
What is the difference between BOsch dishwasher SHXM63W55N and SHXM63WS5N that costs $200 more?
Thank you for your question Mrwest, the difference is the built in water softener. Hope this helps.
Date published: 2019-01-11
what is the depth of this dishwasher?
Hello JinJ, this model is 602 mm deep. Hope this helps!
Date published: 2018-10-15
Bosch Built-In Dishwasher - 3 Racks - 24" - Stainless Steel
is rated out of
5
by
18
.
Rated

5

out of

5
by
KT
from
Great Dishwasher
We needed a quiet dishwasher because our bedroom is right next to the kitchen. I looked and looked and really wanted this Bosch 300 but it was higher than my budget. I noticed it said see cost when you put in cart.... hummmm I finally decided to do this before making finale decision- SO glad I did- I got a smoking deal and it is SO QUIET!!! and cleans well. I decided to try the silverware drawer- it does take a second longer to load but unloading the silverware is super fast. Using the drawer allows for so much extra room on the bottom that occasionally we have to run the dishwasher because we have run out of dishes not because it's full!! Highly recommend. [This review was collected as part of a promotion.]
Date published: 2019-08-05
Rated

5

out of

5
by
SueM
from
New Installation
Our Bosch arrived and we had it installed. It is pretty darn awesome so far. I will update this later to verify that it is the same later, as we've only been using it for a few days. Here's what we have: Cleaning of dishes, pans, utensils, etc. - EXCELLENT. Noise level - UNBELIEVABLY QUIET. Ease of Use - GREAT. So, we love it. I really researched and I'm super glad that I went with this model. Highly recommend! [This review was collected as part of a promotion.]
Date published: 2019-01-02
Rated

5

out of

5
by
Harry
from
Awesome Dishwasher
Very quite and does a very good job of cleaning. I had an older model and they have made improvements to the interior, insulation and the installation. All good upgrades [This review was collected as part of a promotion.]
Date published: 2018-10-10
Rated

3

out of

5
by
JB
from
Does not dry dished even with extra dry option
I got talked into buying this by my contractor and so far I am disappointed. My 20 year old dishwasher was better than this (as old appliances often are). It. does. not. dry. And if you do a load before bed, the dishwasher smells dank in the morning. And the dishes are still wet so I prop it open for a couple of hours. Kind of defeats the dry cycle. I mean, don't get me wrong, the dishes are clean, just really wet and a little smelly.
Date published: 2020-04-21
Rated

5

out of

5
by
Aaron
from
To early to tell
We just replaced our 11 year old Bosch dishwasher . So it being that this was the first time sense 1994 that we had a dishwasher last more than 5 years some like the lg and GE only lasted 1 year. We got a Bosch again . It is quite. I do not like the door latch it is plastic. The stainless on the inside is the same . On outside The stainless has no nickel in the stainless. Stainless with nickel will not rust and is acid resistance .so we hope that this not a issue with cleaning . I installed it and it is different with the electric. You have a box to installed under the sink so take time and screw it up right for safety . That is a better design in my opinion. But it did take a little longer. It cleans very good just like the old one . We do like this dishwasher it looks good . I gave 5 Stars because our last Bosch had no issues. To early to rate this one .
Date published: 2017-11-08
Rated

5

out of

5
by
OntarioDishes
from
Quiet and Efficient
We are extremely pleased with this dishwasher. It runs quietly and gets our dishes perfectly clean. No need to rinse the dishes first like we had to with our previous dishwasher of another brand. The third rack is perfect for all our cutlery, giving us more space for dishes on the bottom rack as we don't need the removable cutlery basket there. The inside seems to smell a bit and I've read other reviews which mentioned the same issue, but this may be just because it's new. At any rate, you can't smell it when it's closed. This dishwasher was easy to install and is just what we wanted.
Date published: 2017-08-20
Rated

4

out of

5
by
BarbMue
from
Time will tell. Gluten free foods will be the test
I've always had Kitchenaid dishwashers. My 1st Kitchenaid was great. My 2nd-not so great. We must eat gluten free. Gluten free bread & bread like items left a gritty substance in my last dishwasher. I've never liked to wash my dishes before I put them in the dishwasher. I always liked to simply scrap the dishes. That's how I've always done it, until we went gluten free. Gluten free flour is heavy & gritty like corn meal. It doesn't dissolve like regular flour. I have used this new dishwasher for about a week. So far, I'm very pleased. Time will tell. With the past dishwasher, it seemed as if it took awhile for the grit to accumulate. I have found dried grit on the sides of bowls, inside glasses & cups, hidden in many places. It didn't seem to matter how I stacked the dishes, or how often I cleaned the dishwasher. Sometimes the dishes were dirty, gritty & sometimes, they weren't. I never could find out what made the difference. This dishwasher is so quiet that I hardly notice when it's on. The cycles are quick, SO--we'll see!
Date published: 2017-12-04
Rated

5

out of

5
by
Chauffeur
from
Incredibly Quiet!
Just replaced a 12 year old whirlpool with this 300 series. Could not be happier. This thing is super quiet. That was my sole criteria and they nailed it! [This review was collected as part of a promotion.]
Date published: 2019-02-03