Description
This Bosch 24" slide-in dishwasher has a tall stainless steel tub and works so quietly (39 dBA) you might forget that it is running. The InfoLight® projects a red light onto the floor to let you know it is on. This dishwasher also features the RackMatic® system which allows you to adjust the upper rack easily and offers a choice of 3 different heights and 9 rack positions overall. The half load option helps reduce energy consumption and a 24-hour delay start lets you set up the dishwasher to fit your schedule. Finally, an AquaStop(R) four-device system protects your dishwasher from potential leaks at all times. Therefore, you can use this device with peace of mind. This Energy Star certified appliance comes with a 1-year limited warranty on parts and labor.
Product specifications
(6) Power Scrub Plus US, auto US, delicate/economy wash US, regular US, 1 hour US, rinse and hold US
(4) Eco US, extra dry, half load, sanitation
RackMatic™ adjustable upper rack, MyWay™ large capacity third rack
Frequently bought together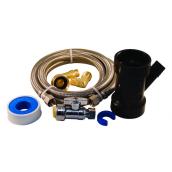 AQUA-DYNAMIC
Dishwasher Installation Kit - 60" Line
Format 60"-1/PK
Details
Article #01735488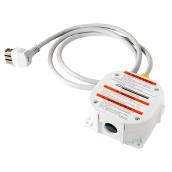 BOSCH
Bosch Dishwasher Junction Box with Power Cord
Details
Article #30855176
Where is this machine made?
All Bosch dishwashers are made in the US with parts from US and EU. None are made in Mexico. It's written on the serial tag of every dishwasher so easy to confirm. 
Date published: 2019-02-28
800 Series Slide-In Dishwasher - 24" - Stainless Steel
is rated out of
5
by
30
.
Rated

5

out of

5
by
Orangefarmer
from
Love it!
This dishwasher is perfect. I have not found anything that this Dishwasher will not clean. Because there are usually only two of us the dishes are usually two days old. Stemware racks are balanced and even tall stems fit with ease. The silverware rack on the 3rd rack is fantastic keeping the utensils at the right angle to clean even dried on egg. The racks fully extend making loading and unloading much easier. Opening the door for a few minutes before unloading makes it dry enough that you do not need to dry even plastic. The "cherry on the top" is the my way 3rd rack cereal bowls larger serving spoons/ whips etc fit too. This dishwasher is fabulous in every way. Highly recommend
Date published: 2017-04-14
Rated

5

out of

5
by
Retired-and-relaxing
from
So very quiet and spotlessly clean dishes
We recently moved into a new home and when buying appliances we knew we wanted a Bosch. We had a Bosch dishwasher in our home, installed in 2002. It worked perfectly without any problems all those years. We thought the other Bosch was quiet but this new machine is EXTREMELY quiet. Dishes are perfectly cleaned but I love the sanitary cycle that always gives confidence everything is perfectly clean. The longer washing/drying time is not a problem for us and I don't see why it should be for anyone else. After all, it's not like you would stand there waiting. Just be assured Bosch is taking care of things and I am so happy I don't hear a sound from this machine while it's working. Thank you Bosch fo another great dishwasher!
Date published: 2017-05-11
Rated

5

out of

5
by
jrobe1111
from
Honestly so quiet I can't tell if it is running!
It is a good thing this dishwasher has a soft, red LED light that shines on the floor need the kick plate. Unless the house is completely silent, I cannot tell if it is running unless I look for the light! No more water sounds, motor sounds, or hissing sounds when we are trying to watch TV like our old washer used to make. Oh, and the dishes come out perfectly clean. We do use the recommended rinse aid. We have been avoiding rinsing our dishes before putting them into the washer, and they are still coming out clean! I would buy this machine over again. The extra cost is worth the peace and quiet! [This review was collected as part of a promotion.]
Date published: 2019-02-08
Rated

5

out of

5
by
Sulli
from
Love
This dishwasher is the best! I needed a quiet dishwasher, open concept home and the old dishwasher was so loud I couldn't run it and watch TV. Now we can hear a pin drop with this dishwasher running. Love the folding tines makes loading super easy and I can actually get everything in it and not have to do multiple loads. The third rack is perfect for large cooking utensils. Everything comes out clean. This dishwasher was worth the money!
Date published: 2017-06-17
Rated

5

out of

5
by
mouse
from
love, love, love... so quiet
love the third row, all the height options for each rack, the quiet level is beyond awesome, 39 dbc!! This is my second Bosch, I won't ever buy another brand..........
Date published: 2018-03-28
Rated

5

out of

5
by
Anne B
from
Very quiet and great cleaning
I am very pleased with my new dishwasher which I've been using for 2 weeks. I live in a small apartment so bought the quietest dishwasher I could find. If not for the indicator light which displays on the floor (great feature), I wouldn't know it was on most of the time. I use Finish Quantum Max dishwashing tabs and get the cleanest dishes ever. My only recommendation is to modify the 3rd upper rack so that it can be used entirely for flatware and cutlery. I prefer to use the other two racks for the rest of the dirty dishes and prefer to remove the caddy which was provided.
Date published: 2018-10-17
Rated

1

out of

5
by
Virginia
from
Worst dishwasher EVER
I hate this dishwasher in so many ways it's difficult to know where to start. While the dishes are "clean" when they come out, they smell, feel, and TASTE like detergent. They are also not dry, even using the sanitize and extra dry options. Have tried with and without rinse aid, not much difference. Also, nothing fits in there! I feel like my dishes are normal sizes and shapes, but this dishwasher seems designed for some very specific dishes that I don't have. Had to remove the top rack just to fit drinking glasses. Stemmed wine glasses don't fit (standing up) no matter what I do. On the bottom rack, all of my dishes were practically laying on their sides. Had to manually bend every single tine to vertical position just to create a little separation since stacked dishes do not get clean! Dinner plates still lean over because tines are too short to hold them upright. This dishwasher is quiet, and that's about it. Just sorry I've kept it beyond the return period.
Date published: 2018-11-16
Rated

1

out of

5
by
Grace
from
Doesn't dry dishes even with extra dry mode
I thought it was programmed incorrectly or installed incorrectly but after having everything checked out again by Bosch technician he lamented this is just what we will all have to start dealing with in regards to the new Bosch technology that meets energy star ratings. Best advice was to leave the door ajar. As anyone with toddlers knows, they are fascinated by dishwashers and leaving the door ajar is not practical for me or most people who don't want to spend the extra time to hand dry dishes. I don't put plastic in dishwashers, I use rinse aid etc. All the other great features about this dw make this one basic overlooked detail a deal breaker for me. If you're like me and occasionally don't get the chance to unload a day or two later, all the water droplets are re-distributed in a fine foggy sweat over everything. You may as well just run the cycle again at that point. Where's the energy star savings in that???? I'd gladly give up noise, energy cost, even the throw backs that don't always come clean, but maybe that's just me. [This review was collected as part of a promotion.]
Date published: 2019-03-22