Description
The Bosch 300 series dishwasher for small kitchens features a triple filtration system and a water softener for spotless, sparklingly clean dishes. The integrated AquaStop Plus system contains possible water leaks through a tub with a solid moulded base. Sensors detect leaks and pump out water, even when the system is off. So, you never have to worry about leaks, whether you're at home or away. The RackMatic® upper rack has 3 height adjustments and 9 possible positions to maximize the number of items you can clean in only one cycle. The device also offers options such as the sanitation function which eliminates 99.9% of bacteria, and the delayed start to perform cleaning at a time that suits you. This Energy Star certified dishwasher comes with a 1-year limited warranty on parts and labour. White model.
Product specifications
RackMatic(R) adjustable upper rack with 3 height settings and 9 possible positions
(4) Heavy, auto, normal, rinse
(4) Delicate, sanitize, Extra Shine, delay start
Frequently bought together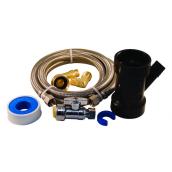 AQUA-DYNAMIC
Dishwasher Installation Kit - 60" Line
Format 60"-1/PK
Details
Article #01735488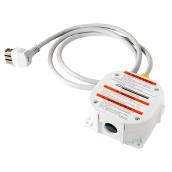 BOSCH
Bosch Dishwasher Junction Box with Power Cord
Details
Article #30855176
how can I contact my closest store
Bosch 300 Series Built-In Dishwasher - AquaStop - 18" - White
is rated out of
5
by
7
.
Rated

5

out of

5
by
Nick
from
needed a small dishwasher and this one worked perfectly in the small space. Very easy installation. I knew it wouldn't hold as much as a larger dishwasher but is fine for just the two of us. Actually holds more than i thought it would. It is so quiet I have to listen to see if its working. Great product...pricey but great!
Date published: 2016-08-18
Rated

5

out of

5
by
bryn
from
love it
You have to stand right next to the dishwasher to hear it. Cleans great. Easily takes care of our daily load of dirty dishes for a family of 4.
Date published: 2017-03-24
Rated

5

out of

5
by
Downsizer
from
YAY!
I had a full size Bosch in my previous home and when I downsized and moved to a smaller home, there wasn't a dishwasher. I found that by giving up one cabinet door and I drawer next to my sink, I had the perfect size space for an 18" dishwasher. I found other places for the items in the cabinet/drawer and had the mini dishwasher installed! It was so worth it! I love my little dishwasher and it's perfect for my needs in my new smaller home! It's doing a great job cleaning my dishes , so glad to have a dishwasher in my life again! [This review was collected as part of a promotion.]
Date published: 2018-11-26
Rated

1

out of

5
by
Med
from
Does not clean dishes!
I might have just gotten a lemon, but this dishwasher is absolutely the worst I have ever had or seen. I have had to call service on it twice and more if I thought it would do any good! I have had dishes coming out of this washing machine as dirty as I put them in. I have waited to write a review not wanting to criticize but again as I am unloading this morning, I am pulling out glasses that are filthy! I'm not even sure it is built with a water heating element because when I turn on the water after the machine has been running a while the water is cold and it's not because I haven't ran hot water first before starting the machine! Honestly, I have to pre-wash the dishes before I put them in there to make sure they come out clean....why in the heck do I need a dishwasher if I have to pre-wash them! This washer is a little over a year old but I have had this problem since day one. I chose a Bosch because I was under the impression I was getting the best...boy was I wrong! It is quiet but that's the only thing it's got going for it. I would gladly trade the noise factor for just a GOOD running dishwasher!! [This review was collected as part of a promotion.]
Date published: 2018-08-22
Rated

5

out of

5
by
KT
from
Great little dishwasher.
Extremely quiet and washes all of the dishes very well. Great rack design, too, the clever use of space lets the owner put far more dishes into this per load than other washers of equivalent size! [This review was collected as part of a promotion.]
Date published: 2019-12-02
Rated

4

out of

5
by
bob
from
quiet dishwasher
was what we were looking for and had some features on it we were not aware of. know is working after install but have not yet washed a load yet. [This review was collected as part of a promotion.]
Date published: 2019-05-15
Rated

5

out of

5
by
HeftyW
from
Great dishwasher
Easy to install all materials are provided just need tools! Holds a lot more than our old 17 inch dishwasher! [This review was collected as part of a promotion.]
Date published: 2018-11-15