Description
Clean up spills quickly and without hassle with this Bissell FeatherWeight(TM) convertible stick vacuum. Ideal for use on anything from carpets, area rugs, and bare floors to stairs and upholstery. The stick vacuum easily converts to a hand-held vacuum for versatile cleaning power. Its lightweight design and compact style make it highly portable and easy to operate. The dirt cup empties easily, without the need for disposable bags. The vacuum also includes a long 15' power cord for extended reach and convenience.
Product specifications
Ideal for bare floors, carpet, counter tops, hard floors, low pile carpet, stairs, upholstery
Convertible bagless stick vacuum
9 1/2" (24.13 cm) cleaning width
Frequently bought together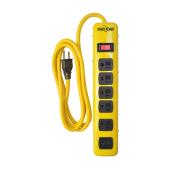 YELLOW JACKET
6-Outlet Power Bar with Surge Protection - 6' - Yellow
Format 1.8M
Details
Article #32045053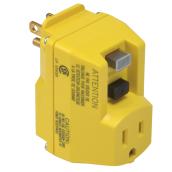 YELLOW JACKET
Single Outlet Portable GFCI Adapter - 1800 W - 15 A
Details
Article #32045050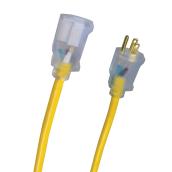 WOODS
12/3 Extension Cord - 25' - Red
Format 12/3 25'
Details
Article #74045239
FeatherWeight Convertible Bagless Stick Vacuum
is rated out of
5
by
702
.
Rated

5

out of

5
by
TomCub
from
MUCH better than ANY cordless
There are no CONS to this product. It is GREAT for those quick clean-up messes. Very strong and ventilated motor provides superb suction power. The foot assembly (floor attachment) has a full width groove in the bottom so it is also a perfect edge cleaning tool along baseboards and in corners. It is so lightweight and compact that it fits in the small space between my clothes dryer and wall which is only six inches. MUCH better than a cordless as it never loses its suction power. BEST of all the similar products on the market for this low of a price. HIGHLY recommend it.
Date published: 2017-10-02
Rated

4

out of

5
by
JT
from
Anybody with Hardwood Floors, needs this!!!
I usually dont write reviews for products, but recently found others reviews helpful. So, anybody with hardwood or tile floors needs this. I have a fancy vacuum with all the attachments, but it's so heavy that I neglect my floors. This guy was easy to put together and does the job my fancy one does, only lighter and more convenient. Picks up everyday crumbs and outside messes in a flash. Only draw back is the cord us too short, otherwise I would have given it 5 stars. I now have no excuse for dirty floors, (sad face), and can walk barefoot in my house (pet-peeve is dirty feet).
Date published: 2018-09-19
Rated

5

out of

5
by
Bruce
from
Great product!
Finally there is an affordable lightweight bagless vacuum! I absolutely enjoy using this product to vacuum the stairs. As you get older it becomes difficult to go up and down the stairs. I had been looking for a lightweight vacuum with a long cord in order to vacuum the stairs. I didn't no it exist so, I did the research and found the featherweight lightweight stick bagless vacuum that I can carry with one hand, and the adjustable parts makes it easy to use to vacuum the car! I was thinking that this would make a really nice holiday gift. Thank you! [This review was collected as part of a promotion.]
Date published: 2018-09-13
Rated

5

out of

5
by
Donald
from
I most sure recommend this Bissel Lightweight Vacuum!
We are snowbirds. I have had a lightweight stick vacuum at one home and have had it and used it for maybe 15 years or so. I love it and use it all the time. Now I felt I needed one at the other place that we winter at. I'm elderly and the real vacuum cleaners are too hard for me to use, so my husband does the carpets and I do the hardwood/or other types of flooring with the lightweight electric brooms. I absolutely love my new FeatherWeight Lightweight Stick Vacuum from Bissel. I can't use a regular broom anymore because of my personal body problems, arthritis, etc. So thank you for checking to see how I like it. I LOVE IT!!! [This review was collected as part of a promotion.]
Date published: 2020-03-22
Rated

5

out of

5
by
Roberta
from
Finally. A really lightweight vacuum
I was staying in the house of a friend who had a Bissell Featherweight and when I used it I decided to get one as soon as I got home. It is so light and easy to use. I had been used to using a hand vac on the kitchen floor but low back issues made it hard to do. The featherweight solved that problem. It has a strong vacuum and I can stand up straight to use it. Have not had occasion to separate the vacuum from the handle for furniture etc but assume it is easy to do. Great product. I had been looking for something like this for a long time and finally Bissell had it. Many thanks. [This review was collected as part of a promotion.]
Date published: 2020-04-05
Rated

5

out of

5
by
Chrisgi
from
Best buy of 2020
This little thing is a neat freaks best friend!!! I have wood and tiles floors , so you know you have to buy a good vacuum to make a difference. To add to this I have 2 boys under 10 and a long haired cat ; you can imagine how I spend my days, Dry swiffer, broom, repeat. I got this vacuum not even 3 hours after detailing my house and the amount hairball and crumbs it still picked up was insane!!! I had close to 3 cats worth of hair after my dry swiffer said my floors were clean. This is legit the only thing (other than a mop, of course) that I now use on my floors. Do not let the size nor price fool you. [This review was collected as part of a promotion.]
Date published: 2020-04-29
Rated

5

out of

5
by
Linda
from
I would buy this product again.
I use this vacuum for quick pick ups on HARD SURFACE flooring, especially for the doggie hair that appears daily. It is the perfect little vac for that since there is NO BRUSH for the hair to get caught. I think this a perfect little lightweight vac that does not have a high noise level but great suction power. I see nothing wrong with the design for hard surface floor sweeping and will continue to use this daily. There are several models with similar numbers and colors but the turquoise 2033 is what I am using. [This review was collected as part of a promotion.]
Date published: 2020-01-17
Rated

5

out of

5
by
Kim
from
Bissel fo shissel. Buying another one!
I didn't expect much from this, albeit the reviews were predominantly terrific. It arrived within 2 weeks, and considering we're in a pandemic- that was fantastic. Easy to put together. Incredibly lightweight, yet sturdy enough so that when I use it as an upright it works. Suction is realistic for a step above a dustbuster. Came with the neck to get it in crevasse and under seats. I ordered the extra filters, and glad I did. They are easy to clean and built to last, but like the idea of having a back up. My Featherweight goes from linoleum to a very thick work carpet without issue. I am so glad I bought this. [This review was collected as part of a promotion.]
Date published: 2020-05-03