Description
This Bionaire(R) air purifier with Claritin filter, eliminates 99.99% of airborne allergens and contaminants as small as 0.3 microns, such as dust, pollen, tobacco smoke, mold spores and pet dander. It offers three speed settings and a numeric timer. It is recommended for small rooms up to 80 sq. ft. and has a compact, space-saving design. It is made of plastic, black and silver in colour and measures 11 3/8" x 17 1/2" x 8 1/4". Ideal for table top. It comes with a 1-year manufacturer warranty.
Product specifications
3 speeds, quiet operation
11.38" x 17.5" x 8.25" (28.91 cm x 44.45 cm x 20.96 cm)
Frequently bought together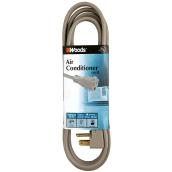 WOODS
Cord - Indoor Air Conditioner Extension Cord
Format 15Ax125Vx1.5M
Details
Article #0238097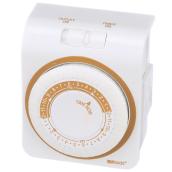 WOODS
Programmable Timer
Details
Article #40255100
Which one do I switch to, for air cleaner?
How do I figure out the filter required for this air purifier? Thank you.
Does this model bap706bsc remove "scents" such as perfumes, cleaners, etc.
Minitower Air Purifier - Claritin HEPA Filter - Black/Silver
is rated out of
5
by
19
.
Rated

4

out of

5
by
MGM2
from
Cleans the air as promised!
I have owned this for a few years. I have a home office & I keep it on 24/7. When I open the door Monday morning the air actually feels fresh. We have had animals and carpeting and this Holmes unit does it's job. Have owned other smaller models too. Would have given it 5 stars but it is a bit noisy now.
Date published: 2015-09-04
Rated

5

out of

5
by
SOLAR SPOTS
from
Very satisfactory air purifier
I purchased this for a medium-sized bedroom. There is some leakage of some sort from the heating system (forced air) which had been making me wake up with a slight sore throat and tight chest almost every morning. I turn it on a few hours before going to sleep and let it run all night. And I feel much better now. The air whir sound is slightly loud at the highest setting but I have an extreme sensibility to noise when trying to go to sleep. So I just use ear plugs and that solved that matter.
Date published: 2016-01-10
Rated

4

out of

5
by
Esghopper
from
Good So Far
I have asthma due to bad allergies. This stops the itching of my throat at night so I can sleep peacefully.
Date published: 2017-06-25
Rated

5

out of

5
by
crismarie8
from
Clean are for asthma, allergy, and pet dander home
I bought one for my sons room when I found out he had a bunch of indoor/outdoor allergies inluding cat dander. We have two cats so his room became a safe cat free zone. When he had allergic reactions he would become hyperactive and unable to focus. This has actually improved the quality that he no longer wakes up with blotches on his face or watery eyes and nose. I ended up buying two more for our other bedrooms and they work great.
Date published: 2016-02-19
Rated

4

out of

5
by
LaVondra
from
Glad I bought this..
I bought my air purifier solely for the reason that every single night when I would go to sleep in my bedroom I would get very very congested. I have definitely noticed a big difference now that I have this running all the time in the bedroom. It is not loud at all and gives me the same effect as when I used to sleep with my fan on. I do wish I had bought a slightly bigger one but this one still seems to be doing fine. [This review was collected as part of a promotion.]
Date published: 2016-01-27
Rated

5

out of

5
by
mamaJ
from
works good!
I have a large Holmes air purifier that works great at home but I wanted a small one to use when traveling to save wear on my husband's back. Perfumes, cleaning agents and Freebreeze sprayed all over the hotel rooms, give me lots of trouble. I'll use this air purifier in the bedroom. I'll have to let you know how it works after this weekend. Our daughter gets married out of town. This will be easy to take in the car.
Date published: 2018-04-23
Rated

5

out of

5
by
Cam0
from
Works great
I bought it about 1 year ago and I really would recommend this for a bed room or office. On high it can be kind of noisy but it is worth it. Make the investment in clean air you will love it if your always stuffed up
Date published: 2015-11-16
Rated

5

out of

5
by
Nancyosu
from
Works as promised
I bought this air purifier three days ago after one hour I could tell the difference in my home air smells fresher.. I have extreme allergies and this has helped me breath better at night ..
Date published: 2015-09-12