"Beltis" Wall Block 7.25" x 11.5" - Beige/Black
Article #66635160
Model #16200124D
Format 4x11 1/2x7 1/4"
RONA Langdon Hardware Ltd. / Fort Erie
(289) 320-8250
Description
Create a simple, antique-inspired retaining wall with the Permacon "Beltis" Tumbled Wall Block. With enhanced texture on all surfaces, this concrete wall block offers a natural touch to your landscaping project. The beveled design of this retaining wall block allows for both straight and curved line walls.
Related Projects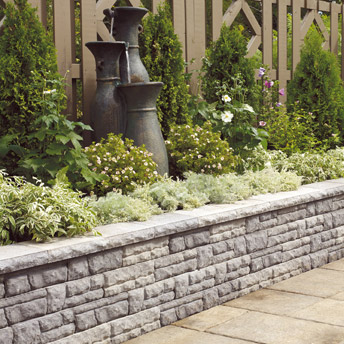 Build a concrete retaining wall
A retaining wall can be more than purely decorative; it can contain a flowerbed, enable terraced landscaping, or mark the boundaries of your property.

Learn more
Slabs, blocks and pavers
There was a time when sitting outside on a sunny day meant simply putting a couple of garden chairs out on the grass. Today, outdoor living is about creating tr...Learn more