VINTIQUEWISE - Toilet Paper Holders (1)
Find 
toilet paper holders
that complement your bathroom's functionality and beauty. Choose from Rona's selection of wall-mounted, recessed, stand, and roller models. Browse the many finishes, such as bronze, stainless steel, and chrome. There is a paper holding style, finish, and shape for every function and decor. Find 
bathroom accessory sets
to find suitable soap dispensers,
toilet paper dispensers
, towel holders, lotion dispensers, and tissue box covers. Give your bathroom an organized and stylish look with 
toilet brushes
and soap dishes.
---
Add style and flair to the most used room in a home with
toilet paper holders
. They enhance decor and functional access to bathroom tissue. Available in a plethora of styles and metals, there is one to fit every decorating style. Designs include in-wall mounts, against-the-wall mounting, over-tank designs, enclosed holders, and pedestal holders. Use
bathroom paper holders
as stand-alone items or purchase them as part of bathroom accessory sets.  
Some
toilet paper dispensers
 have self-adhesive bases for easy no-tool attachment to walls; this means that homeowners need not drill into wall tiles, which may crack under pressure. Other models come with installation hardware for simple, effective mounting, and these styles typically have bases that drop over the screws for a streamlined look. 
Select a
toilet paper holder
that includes a toilet brush attachment for a functional two-in-one item. Choose from many designs, including combination or matching sets of high-polished chrome paper dispensers and brush holders or opt for durable plastic or attractive patterned metal. Other combo sets include pieces with attached magazine racks and holders for extra rolls of toilet paper. 
Finish out a bathroom accessory set with
towel holders
. They're available in many designs, from bars for bath towels to rings for hand towels. Use towel holders as an extension of the overall design of the bathroom. Match designs and metals in the accessory sets to maintain a flow throughout the room. Contrast pieces such as high-polished chrome paper holders and coloured towel racks or soap dishes to accentuate the overall design.
Choose
bathroom paper holders
to make a statement or to blend them in. Use bathroom accessories to brighten a dull space into an extension of the personality of the home. Carry a metal design throughout the home's fixtures or add definition to just one room.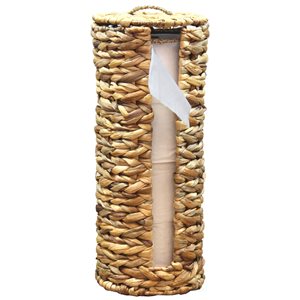 VINTIQUEWISE
Vintiquewise Beige Freestanding Single Post Toilet Paper Holder
Details
Article #330993077