Description
This Attitude® all purpose cleaner is a natural and efficient way to disinfect. Hypoallergenic, it will leave a fresh thyme and citrus scent throughout your house. 800 mL format.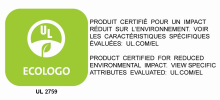 Ecological Attributes
This cleanser is certified by ECOLOGO® (UL 2759: Hardsurface Cleaners), which attests that it is formulated without certain harmful chemicals to human health. It does not contain phosphates or ammonia, and is biodegradable under the OECD 301 D biodegradation standards, which helps reduce the impact on ecosystems and water. Since it contains less than 12% volatile organic compounds (VOCs), this product affects human health less than conventional products.