I enjoy layered outdoor lighting, and lots of it. Lighting is ideally placed at high, mid & floor level points in your yard, deck or balcony. Sometimes I illuminate these levels at the same time, and on other occasions, I select strategic areas I want to glow and twinkle as the sun starts to set. Not only will this extend your time outdoors by adding light to your space, but it also adds ambiance, sophistication and style.

Here are a few of my favourite trends.
Trend #1: High-level lighting
Pre-strung lights are easy to use and have a big impact. I am fond of the black vintage lights with the old world filament bulbs. They have such a quirky warm light and are right on trend. Many of these lights are solar powered or battery operated so no need to plug them in. These are perfect for your HIGH level lights to illuminate the upper portion of your space.
String them alone or put several strings together to create a long casual line of light. String lights are easy to weave along the fence, over an entry way or on a balcony railing. I particularly love the umbrellas that already have the light inside. Just put up your market umbrella and presto! You have a pop of colour and light!

Another of my favourites for high-level lighting are outdoor pendant lights. Pendant lights work wonderfully over a sectional, or at the corners of your yard. We are seeing lots of intricate metal work and old world flavour out there right now. I love the sense of history, travel and workmanship these lights evoke.

The idea of bringing inside design outside is really appealing to those who want a little more detail in their outdoor rooms.

Where to find these items:
Trend #2: Tabletop lighting
Mid-level lighting is your tabletop lighting. After a great fresh local meal cooked outdoors, I enjoy gazing into the tabletop light of colourful lanterns or tiered candles. Many of the coffee table and tabletop lights have a faux flame and are battery-operated. These candles stay lit in the warm evening breeze!

My indoor décor is quite sophisticated, so when I am outdoors I like to add hints of whimsy, or nautical or tropical details to my space.

Propane fuelled table top fireplaces are all the rage with outdoor entertainers this season. You get a warm fiery glow instantly, without the smoke produced from wood-burning fire pits. Urban neighbourhoods everywhere are embracing this trend. And let's face it, who doesn't look fantastic in the flicker of an outdoor flame?

Where to find those items:
Trend #3: Floor lighting
There are loads of great floor level lights. I either like the rustic look of stone lights to keep your space rustic casual or I go for the LED resin floor lights that scream Miami chic. I always group 3 together and place them in strategic areas of the yard.

The floor level glow is very soft and refined. The cube and the tall vase shape are my favourite. I like to stack the cubes to create area dividers. The tall vase style is perfect for an uber-cool ice bucket. Chilled champagne never looked so good!

So what are we waiting for? Let's get outside!

Where to find those items:
Featured Products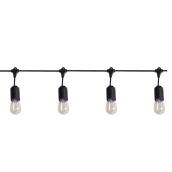 LUMIRAMA(TM)
String Lights
Format 12' 10Wx10
Article #69575030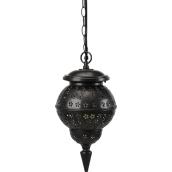 PARADISE
"Moroccan" Outdoor Hanging Lantern
Format 120V 16-14"
Details
Article #84565036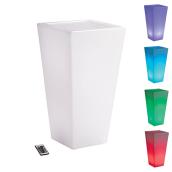 BAZZ
Outdoor LED Vase
Format 28x12x12"
Article #98175000