Description
This 16 cu. ft. Amana(R) upright freezer will make you save money by letting you store more frozen bulk products than a regular refrigerator. This appliance features a built-in option that helps you to quickly freeze large amounts of food fast, by temporarily driving freezer temps 10 degrees colder than the lowest setting. DeepFreeze technology cools the freezer to the freezing temperature of - 22 °C and helps you keep frozen meals for months. The Free-O-Frost system helps prevent frost build-up, so you don't have to worry about setting aside time to defrost the freezer. Finally, the rollers make it easy to move the freezer, even when fully loaded. Backed by a 1-year limited warranty on parts and labour.
Product specifications
Reversible Door Swing (Y/N)
Frequently bought together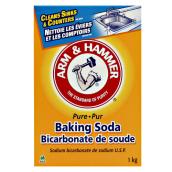 ARM & HAMMER
Baking Soda
Format 1KG
Details
Article #53975001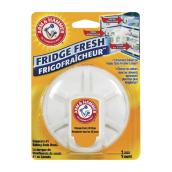 ARM & HAMMER
"Fridge Fresh" Refrigerator Air Filter
Details
Article #53975000
Could you open the door from the right ? The basket at the bottom,is it a wire basket? The pictures on my device is not clear. Thank you very much.
Yes the door is reversible. The bottom section is not a basket it uses the surface of the freezer liner as a shelf which is enclosed at the front by plastic.
Date published: 2018-04-17
Quel est le son en terme de décibel? 
Amana(R) Upright Freezer - 30 1/4" - 15.68 cu. ft. - White
is rated out of
5
by
98
.
Rated

5

out of

5
by
Momma of 3
from
Better than expected
We have a small chest freezer but it was impossible to find anything and once I started storing breastmilk we had to find something that worked better for our frozen food storage. Had several options to choose from at the store but ultimately chose this because the interior storage configuration was the best and the overall size wasn't too large. Very easy to see what you have. The large bin at the bottom was the feature that sold us as almost every other option had nothing at the bottom. Would absolutely purchase again. My family of 5 is getting a ton of use out of this product. [This review was collected as part of a promotion.]
Date published: 2017-02-06
Rated

5

out of

5
by
Dutch
from
What a Wonderful Addition to my Life!
I have never had a separate freezer until this month when my daughter gave me my Amana freezer. To say that I am thrilled is putting it mildly. I can't say how wonderful it is to be able to buy those things which are on sale and not miss out on a lot of savings. This freezer is a super addition to my household and makes my life easier when decision time comes and I have to pick out something to cook for dinner. I also have a side-by-side refrigerator/freezer which is so very limiting spacewise that this freezer is such a wonderful addition! [This review was collected as part of a promotion.]
Date published: 2016-12-12
Rated

4

out of

5
by
Dragon Mama
from
Amana16-cu ft Upright Freezer MFR# AZF33X16DW
We have our Amana 16-cu ft Frost Free Upright Freezer delivered to our house today. We ordered the freezer about a month ago for CAD$ 645+ $80 delivery fee and finally the unit is delivered. The freezer looks good, interior is very spacious however just like many viewers' comments, there were not enough shelving units (only 3 shelves). One thing I was surprised to see is though the compressor sitting in the back of the freezer was covered with cardboard material made cover instead of metal cover. (Picture attached). I just can't believe the manufacturer is cutting corner to this extend. What if the cardboard cover gets wet then what do we do. Other than the two concerns I've mentioned above, the freezer is a great addition to my kitchen/family. Haven't put any food in the freezer yet, will wait until the unit is turned on for 6-8 hours. I'll provide updates on how the freezer runs. Thanks.
Date published: 2020-03-22
Rated

5

out of

5
by
Tuny47
from
Very happy with it!
I have only had this freezer a couple of weeks but I am very happy with it so far. My old chest freezer went out and I had to get something in a hurry. I decided I wanted an upright freezer because it is hard for me to reach all the food in the chest freezer and I really do not need that much freezer space. This freezer does not hold as much as the chest freezer but it is more convenient to use. I can see all the food and reach it easily. I think I am going to be very happy with it. No problems yet. [This review was collected as part of a promotion.]
Date published: 2017-12-19
Rated

5

out of

5
by
Linda48
from
Great appliance
We love our Amana freezer. My Grandmother used to be PR for Amana in the 50's, so this product is close to our hearts. My husband and I love to cook as did my Grandma because she would cook all the fabulous food for the open door photo shoots for Amana products, so we always are buying food to keep in the freezer. We love the look of it and the way it stores our food. Great appliance. [This review was collected as part of a promotion.]
Date published: 2019-11-21
Rated

5

out of

5
by
Pete
from
Replacement Freezer
Replaced with the same freezer as I had. You put food into it and it stays frozen till you need it. I mean what can you really say about a freezer.
Date published: 2020-02-19
Rated

5

out of

5
by
Dale
from
Just what we needed
Our chest freezer was showing signs of imminent failure so we got rid of it. We then decided we wanted an upright freezer for better visibility and access. I searched among the many choices and saw this at our local Fry's store. And it's an Amana! Granted, apparently Whirlpool bought the name but we've had good luck with Whirlpool as well. One month in, we're happy. It chills food fast, it's quiet and the compressor does not turn on frequently after the internal temperature is stabilized. [This review was collected as part of a promotion.]
Date published: 2018-10-07
Rated

4

out of

5
by
Jean
from
Freezer Shelves
I am very happy with my freezer, with the exception of not being able to find extra shelves. Instead to just adjusting the shelves I would like to one more large shelf. If I could find this extra shelf, I would be extremely happy with my freezer.
Date published: 2015-11-03