Description
This unique ceiling fan with cinnamon coloured blades is great for transitional style decor. The 20'' fan provides up to 3,030-CFM making it ideal for smaller rooms. Featuring 3-speed settings to maintain the ideal comfort level while the 24° blade pitch promotes optimal airflow. The indoor/outdoor portable wet-style fan can be used in greenhouses, gazebos and porches. This product is covered by a limited lifetime warranty.
Product specifications
Lifetime limited warranty
Frequently bought together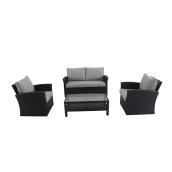 STYLE SELECTIONS
Matheson 4-Piece Outdoor Conversation Set - Steel/Resin/Olefin - Black/Grey
Format 4PC
Details
Article #48655039
Good morning. Quick question how low does the fan hang or how close can it be to the ceiling. 
I installed a 2" hook on an 8' ceiling leaving 77" between the bottom of the fan and the floor. This leaves plenty of room on both sides of the fan to work well. 
Date published: 2020-08-09
How much does the fan weigh?
Not sure but I could lift it up onto the hook myself, it's a great product, we bought two!
Date published: 2020-08-03
Has this fan got a reverse mode to draw air out?
No, I don't think so
Date published: 2019-07-28
Can you use this fan in a hallway of a house to improve air circulation?
I don't see why not. As long as you have a strong hook anchored into a ceiling joist (do not just put an anchor into drywall) and you're close enough to an electrical outlet. The power cord is about 7' long. 
Date published: 2019-07-18
how long is the cord on the fan?
Approximately 5-6 ft long. I have mine plugged into an extension cord in ny gazebo
Date published: 2019-07-14
How do you mount this fan
It comes with a heavy duty hook.
Date published: 2020-06-07
Could it be plugged into a 'smart' plug?
I'm sure it can. It uses a standard receptacle
Date published: 2020-06-09
Is this fan weather resistant? Are there specs available?
This a outdoor fan, basically, never the less, suggest to keep indoor if not for use to prevent baldes frozen or UL damage.
Date published: 2019-06-29
Allen + Roth Ceiling Fan for Gazebo - 20-in - 3 Speed- 3 Blades - Bronze
is rated out of
5
by
401
.
Rated

5

out of

5
by
Libobean
from
Perfect!
I love this fan. The cord is at least 8 foot long. It weighs 15 pounds. I notice the reference to 65 pounds and what that is about is the eye hook. It needs to be strong enough for 65pounds. I guess for the strength to hold the fan steady when it is on the top speed. I needed something easy for my front porch and because of the height I needed it in a cage just in case someone was to touch it. The air movement it puts out is very good. I would say 10 foot around the fan. I have a 48 foot long porch and got 2 and it is perfect. I ran plugs in the ceiling because I didn't want to see the cords going down the front of my house.
Date published: 2016-09-15
Rated

5

out of

5
by
BenP
from
Brilliant solution
I've been searching for a solution for my 7ft ceilings in a cottage, where both the ceiling height and wiring is an issue. These fans are the perfect solution. I just installed 2 of them in less than 20 minutes. Everything you need is in the box with the exception of whatever you need to hang from your ceiling or wherever you plan to mount the fan. I bought two good-sized hooks to screw into the ceiling (wood) and hung these over the beds. What a huge difference already moving the air, and they look fantastic. Only complaint is they're a bit louder than a regular ceiling fan (more like a table fan) but nothing crazy. Brilliant solution!
Date published: 2018-06-24
Rated

5

out of

5
by
Ted
from
SUPER OUTSIDE FAN
Last year we put up a new gazebo. AT the top of it were these 3 hook loops. So we started browsing around and came across this fan on line at Lowe's..and it was on sale too. So, being the eternal skeptic, we ordered one. The assembly was minor and done in about 7 minutes..hung it, plugged it in and wow..did it make a nice difference. To tell you how impressed we were, this year we ordered 2 more ( lol for the other hooks ) and wow..again. with all the heat and humidity did it improve things. The units work fine and no issues of any kind...yet. For the application and certainly for the "sale" price, I would definitely recommend this product!
Date published: 2016-08-30
Rated

4

out of

5
by
Inspectorrejector
from
Went up "EeeZee - PeeZee"
Bought this today for the backyard gazebo to get ready for summer heat here in N.Texas. Went up without even opening the instruction book. Although the weather was mild today the wife when she came out said "it sure puts out some wind doesn't it?" I hard wired it into a junction box the electrician left for me when he did some other work at the house when I told him I was going to put a fan up. Now it's controlled by a on/off switch on one of the corner posts. One star off because I wish as many others do, that the speed could be controlled by a chain pull. I left it on medium for now but may have to get the step ladder out and move it to high in a couple months.
Date published: 2017-02-13
Rated

5

out of

5
by
NDDawn
from
Great little fan!
I bought this fan to hang from the pergola on my deck to help move the air around on warm days that don't have a breeze. This is quick and easy to put together and use. I just hang it from an S hook that I put over one of the bars of the pergola which works great. The fan runs quietly and smoothly, I was afraid it might shake hanging from the S hook but I have had no issue with any movement. It puts out a nice amount of air for me when I am sitting under it but I might buy a second one to help cover more area when others are out there with me. This really is a great little fan!
Date published: 2018-08-08
Rated

5

out of

5
by
Aaron
from
Simple and productive
I was getting rid of an old ceiling fan on our patio and decided to invest in a couple of these. They are super simple to put up, all you have to assemble is the downrod which took all but 2 mins. I bought 2 cup hooks to hang them from. I then decided to get a little creative and used some old chain I had from a previous light fixture to be able to angle the fans as needed. So far they work great, they pump out plenty of air, and they have a nice relaxing low buzz sound. I'd definitely recommend buying this if you want a hassle free install.
Date published: 2017-03-17
Rated

5

out of

5
by
Mommyof2boys
from
Great fan! Love it!
We have had this fan a while and we finally put it up yesterday. Its a great fan the only thing i did not like was that we have a very high ceiling on our porch and the switch to turn it on is going to a pain to get to. Also i wish the cord was a little longer. We are going to have to put extra money in to wire it up. Other than those 2 things the fan is great. It is super easy to install if you have a plug near by. I would like to add the cord to plug up is around 5 ft i believe so if you have a plug close this wouldn't be a problem.
Date published: 2014-02-24
Rated

4

out of

5
by
medson
from
Works well for our needs
I wanted a fan on our porch to give a breeze and help with mosquitoes without having to go to the length of installing a ceiling fan. This fan looks nice, was extremely easy to install, and is not loud. I do feel that it was a bit expensive for its size and the air movement it produces. It makes a nice breeze that covers an area approximately 4 ft from center (8 ft diameter), but dies down quickly after that. Mounting on 9 ft ceiling makes adjusting speed difficult, but not really relevant since I will always keep on the high setting. As others stated, the cord could be longer; it is approximately 8 ft. The adhesive clips for attaching the cord did not hold and I even pre-cleaned the wall surface that I attached them to. Easy fix with brass hooks.
Date published: 2014-06-09