Description
You'll have plenty of room to store all your favourites inside this 18 cu. ft. ENERGY STAR certified all refrigerator. Choose the ideal temperature for whatever foods you're storing with convenient electronic temperature controls and humidity-controlled crispers.

Ecological Attributes
This refrigerator is ENERGY STAR® certified to save up to 10% in energy.
Product specifications
Number of Refrigerator Shelves
Swing door, 5 shelves, 6 door bins, 4 half-width drawers including 2 with humidity control
Reversible Door Swing (Y/N)
Frequently bought together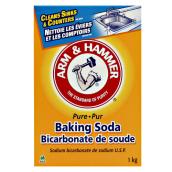 ARM & HAMMER
Baking Soda
Format 1KG
Details
Article #53975001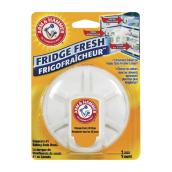 ARM & HAMMER
"Fridge Fresh" Refrigerator Air Filter
Details
Article #53975000
All Refrigerator - 31" - 17.78 cu. ft. - White
is rated out of
5
by
36
.
Rated

1

out of

5
by
frustrated
from
AWFUL
After just six months, it stopped cooling. Whirlpool sent a technician to diagnose the problem five days later. Eight days after that the parts arrived and it was "repaired". Now, four weeks later, it has stopped cooling AGAIN. A Whirlpool technician will be here in four days. I don't think Whirlpool realizes how much its defective products impact a family that dares to purchase them. Besides spending our precious $'s, we have had to take three days off of work to meet technicians, and spend more $ to replace ruined food. And how is a family of five supposed to live for two weeks without a refrigerator???? Don't buy a Whirlpool product.
Date published: 2018-06-22
Rated

4

out of

5
by
nana5057
from
Its a Whirpool!
Watched the delivery guys unpack my fridge. Very careful. Git it in my home and positioned almost where i wanted it. Found a scratch that looked as if the metal had broken. Fortunately, it hadn't. Found a small place on the door where it had been knocked. I kniw the delivery guys didnt do it so it had to have happened when it was being crated for shipping. The delivery guys were ready to take it back but i told them since it was a second fridge it would be ok. Told it takes about 24 hours to reach cooling temp. Inly took about 4-6 hours and we were getting cold sidas out. Over all it was a pleasant transaction....I ordered online. The third party delivery gave excelkent service.
Date published: 2016-06-19
Rated

3

out of

5
by
Clarinda
from
Disappointed
We purchased this fridge in May 2018. As I am typing this (7/17/2018) there is a repairman working on my fridge. It stopped cooling. The bad thing is that I had recently bought groceries and had to throw EVERYTHING out!! This fridge is less than 2 months old. I shouldn't have to have a repairman out here. As a family of 5 on a budget, this has put us in a bind. Whirlpool, PLEASE check your reviews and check with the service department to see what recurring issues or problems your products may be having, if any, and take to heart that there may be a flaw in your product. I would hate for this to happen to any else. As a freezerless fridge, it does have a lot of space which worked out nicely for our needs.
Date published: 2018-07-17
Rated

5

out of

5
by
Ahsha
from
Plenty of room. Cools quickly.
Amazing fridge. Planning to buy another Whirlpool soon for our housw. This was bought to replace a broken fridge we keep in garage for bulk cold food purchases like dairy, condiment bottles etc. Love that this fridge comes with more room. Didnt use our freezer part from our old one, but needed more space in fridge area. Amazing delivery service also. Guys gave us all the important info to make sure this will last a long time. Only negative comment is that when i put the fridge in my online shopping cart, delivery said 7th, ended up getting change immediately after purchase. Even still, no regrets! [This review was collected as part of a promotion.]
Date published: 2018-08-15
Rated

1

out of

5
by
lisa
from
Piece of junk
Right after I bought this refrigerator I started having problems. not keeping things cold enough. food kept going bad.there is one control setting inside the refrigerator,no matter what setting it was on.also ice built up behind the drawers. so nothing stayed cold on top and things froze in the drawer. called for service,had to wait 2 weeks for parts. I recommend staying away from whirlpool and this refrigerator. I will never purchase a whirlpool again!
Date published: 2017-02-23
Rated

1

out of

5
by
Bob
from
EVAPORATOR TRAY CONTINUALLY OVERFLOWS ONTO FLOOR
Purchased new in April 2018 and the unit started to overflow onto floor at two weeks. After three service calls to correct the issue the company tech have decided it's and environmental issue and they will not attempt any more fixes. They re-routed the evaporation fan and have changed the door gasket, neither of which solved the problem. So far, they are not going to fix it or replace it, or refund my money as a tech somewhere on the mainland has decided it's an environmental issue, not an equipment issue. We have never had this problem with any other refrigerator in the past and have several older freezers and one refrigerator in an open air garage with no issues. Not happy with the company so far and certainly not happy with this refrigerator.
Date published: 2018-07-18
Rated

2

out of

5
by
DJ
from
Lasted one year than temp regulator went out
Temp regulator went out right at 1 year and the warranty was no longer valid. Cost $300+ to replace the part so just went and bought a new refrigerator. Service man indicated he had seen this same problem on two other refrigerators like this one.
Date published: 2016-10-17
Rated

1

out of

5
by
HotDrink
from
Did not work
Ordered online. Had it delivered today. First of all the door handle came off when I opened it for the first time. I thought, okay that can be fixed. Then I plugged it in and it did not run. Checked the outlet and it was fine. Tried again and nothing. I told the delivery driver to take it back. Very Disappointing. [This review was collected as part of a promotion.]
Date published: 2018-08-31