Description
Air actively passes through the filter, helping neutralize odors and bacteria. Reduces odors 15 times better than baking soda. 1 year warranty. Filter should be changed every 6 months.
Product specifications
Air filter for refrigerator
Frequently bought together
KITCHENAID
Refrigerator with Prep Zone - 23.8 cu. ft. - Black Stainless
Format 75.62x32.5x38.5"
Details
Article #30005610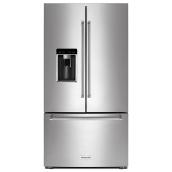 KITCHENAID
French-Door Refrigerator - 36" - 23.8 cu. ft. - SS
Format 31.5x71.87x35.81"
Details
Article #30005455
Air Filter for Refrigerator
is rated out of
5
by
61
.
Rated

5

out of

5
by
Ms. Smell Good!
from
(inhale) - No Odors!
I truly believe this Air Filter works great! it is SO easy to install (just the little snaps), and then I don't even think about it... the indicator let's me know when its time to change it - making it painlessly simple! Highly recommend it... even if you don't think you have food odors. Sometimes, we just get used to our surroundings, but this works better then the "conventional" methods I used to try!
Date published: 2011-05-17
Rated

4

out of

5
by
NNH-Art
from
It works
Seems to remove odors better than the traditional box of baking soda. Only time will tell how long it lasts. Should have been included with new refrigerator, but manufacturer saved a couple dollars! No where in refrigerator instructions does it tell you to buy one. Easy to install except for "end of life" indicator.
Date published: 2015-12-24
Rated

5

out of

5
by
EZgoing
from
Does a better job of it all than expected
I dis-like 'consumables' that add to the expense of operating a 'normal' appliance in the home, but this, as well as the activated carbon water filter, are well worth keeping changed out. It is recommended that the air filter be changed out every 6 months (same schedule as the water filter for MOST situations). I usually 'push' my water filter change to 9 months between changes (we have pretty good well water here), and can admit that we do smell a few more odors in the fridge by extending the air filter changes by the time it's changed out. The air filter will not eliminate the smell of rotting food that should be thrown out anyway, but it sure does help with almost all smells of a normal operating fridge as well as a few items that are well past their usefulness.
Date published: 2016-11-24
Rated

5

out of

5
by
Jose
from
Very good product
This filter is very efficient, it's supposed to be good for six months but I replace it around every four.
Date published: 2013-06-04
Rated

4

out of

5
by
Kitchenaid
from
Good Feature
Convenience of buying this item at Lowe's instead of ordering through manufacturer. Salesperson very customer responsive.
Date published: 2014-09-07
Rated

5

out of

5
by
Buffalobutt
from
Made a world of difference in temperature and freshness, wish I had discovered this earlier.
Date published: 2013-12-09
Rated

5

out of

5
by
Adam
from
Easy
I've had my fridge for 5 years... never changed the air filter until I had a bunch of moisture... not only did the water go away, but it was SUPER easy to install!! [This review was collected as part of a promotion.]
Date published: 2018-10-21
Rated

5

out of

5
by
wv2018
from
A perfect fit for clean air in refrigerator
this is a very easy snap on, into your refrigerator air filter replacement. NO tools required and comes with an indicator for replacement time. Any smell of food or mixing the air is mostly ruled out by the filter and feels like they absorb most odors. [This review was collected as part of a promotion.]
Date published: 2018-10-07