Description
5300 RPM. Lighter magnesium construction. "Cut-Ready" depth of cut system helps with quick, accurate depth measurements. 53° Bevel allows users to complete a wider variety of cuts. A Multi-function wrench has a variety of uses for convenience on the jobsite. Powerful motor gives users the power to rip through more lumber" less time. Saw hook provides safe rafter placement. Oil lubricated worm drive gears provide ultimate durability and long saw life" addition to quiet running. Soft-grip handle for comfort and control.
Frequently bought together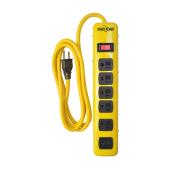 YELLOW JACKET
6-Outlet Power Bar with Surge Protection - 6' - Yellow
Format 1.8M
Details
Article #32045053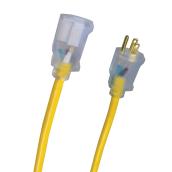 WOODS
12/3 Extension Cord - 25' - Red
Format 12/3 25'
Details
Article #74045239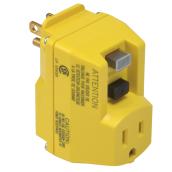 YELLOW JACKET
Single Outlet Portable GFCI Adapter - 1800 W - 15 A
Details
Article #32045050
Does this saw come with a blade?
Mine came with a Skilsaw brand thin kerf 24T blade. Works well for general framing/sheathing and easily handles ripping a piece of 2 x lumber lengthwise. Decent blade overall. 
Date published: 2018-09-08
7 1/4-in Electrical Circular Saw
is rated out of
5
by
32
.
Rated

5

out of

5
by
bigdrew
from
Love this saw
I had an old skill sidewinder saw that i bought at a yard sale years ago give up the ghost and started doing research on what I wanted next. As a hobbyist, the worm drive is probably more saw than I "need" but I figured going with the Mag 77 I'd probably never have to buy another saw. Am I glad I did. The blade on the left side makes life so much easier for a right handed user, the extra weight eats vibration and I hardly even noticed the extra weight after several cuts. The rafter hook and ultra defined call outs on the degree scale are awesome. I finished one project with it already and I enjoyed using the saw so much now i'm looking for other stuff to cut for the fun of it. Love it.
Date published: 2018-02-26
Rated

5

out of

5
by
Peter
from
It's a Skilsaw!
Time-tested, tried-and-true, nothing really compares. Personally I enjoy a variety in my shop, and I have always owned this tool. It's not fancy, does what it's supposed to do, doesn't cost a fortune, the design is simple without a bunch of electronics that only break overtime. Why reinvent the wheel? Over the course of 39 years, this is only the 3rd Skilsaw I've purchased. Truth be told I gave away one years ago so really this is only the second tool I've needed. I guess that says it all.
Date published: 2016-10-01
Rated

5

out of

5
by
Stanley
from
The choice of professionals for decades
I've had the earlier version of this Skilsaw for something like 40 years, since I first worked as a carpenter's helper, and he told me what to get. No one I ever saw on a job site ever used anything else. They do the job and take whatever happens in stride. I dropped mine off a barn roof once (even tho I tied off the ext. cord as I'd been taught, just the tip of the plate hit concrete, I'd given just a bit too much slack to move about the roof). A little scuffed, a little tweak to the baseplate corner, but didn't effect the level and true cut. I used it for another 2 decades. I just decided it was time to see what modern technology had added to a great classic tool. [This review was collected as part of a promotion.]
Date published: 2019-06-19
Rated

5

out of

5
by
Dogdad
from
Mag 77
I have owned several different circular saws over the years yet I had not used a worm drive until just recently. I was hooked within just a few cuts. I sold all my other saws and bought this one with the proceeds and haven't regretted it for a second. The handle design lends itself to steady cutting as your pushing the blade through material from behind instead of from above it. The added torque the worm drive gear box provides allows you to cut through weathered, wet or painted materials with ease and confidence. In a day and age when most things are built to be seemingly disposable, this design stands the test of time. I truly wish I had started out with one, I'd have been a better craftsman!
Date published: 2018-05-13
Rated

4

out of

5
by
TS
from
Check the oil before using!!
Mine was low on oil out of the box, ran it through two 2X4's and it was noisy, checked the oil and there wasn't any, get a tube of the Skil oil and fill before first use. Otherwise as good a saw as my 30+ year old one.
Date published: 2017-01-07
Rated

2

out of

5
by
gmjim
from
Dissapointed!
I just bought this saw and like it very much. Lighter than my old Skil worm saw but no rip fence included? None of the Canadian big box stores have one and say they can't order one for me. I can buy one online for $32.00 but who wants to pay $32.00 for something that costs about $3.00 to make! Other saws in this price range have a rip fence included. What's up with that! Now I have to find one for a reasonable cost but where?
Date published: 2019-04-12
Rated

5

out of

5
by
Skyflyer
from
Love my M77LT Worm Drive!
My dad was a framer and built hundreds of homes in the valley and La Canada, CA. I remember going to jobs with him after he got into commercial buildings and two saws were a given: Skilsaw M77 and Milwaukee Sawsall. Dad did use a circular saw quite a bit, but I always held a reverence for his worm drive M77. It looked like it meant business. Yes, my dad did have "Popeye arms" much of it due to slinging the M77! Just this week I bought my own M77LT. Though I have not used it much (yet), it looks very quality-built. It has no unnecessary parts and it's form and function are PERFECT in my eyes. If someone tells you it's mostly used for framing or ripping ply, they're wrong. Today I cut LP siding within 1/16" of my line. Just draw your line, start the saw close to the start of the line, let the torque settle down and start sawing. This saw can easily take the place of a chop or miter saw for many applications. I am so far very impressed with this saw (I knew it was for me before I bought it). I feel very confident that I can use it anywhere on a job. I plan to use it for building window cases, which require fairly tight tolerance cuts. I highly recommend this saw to someone who is willing to use it and not let it intimidate you. What is best about it is that you can see your cut line all the way without cranking your neck. Long live the Skilsaw M77LT!
Date published: 2014-09-23
Rated

5

out of

5
by
RacerxV6
from
First Worm Ever
After purchasing my first worm-drive ever and my first skilsaw since I bought my first Black and Decker back in the 80's, oh what a dream this is. This thing cuts wood like a hot knife going through a soft stick of butter. I have never held such a tool that actually stayed true to the line and cut so effortlessly. I would highly recommend this saw to anyone that cuts on a weekly basis.
Date published: 2018-01-15