4-in Recessed LED
Article #34665132
Model #100L11W
Format 4" 11W
RONA Langdon Hardware Ltd. / Fort Erie
(289) 320-8250
Description
Directional Recessed Fixture. 4 in. diameter. Matte white finished steel. Approved for insulated ceiling with no insulation box required. For all interior application, suitable for damp location. Integrated LED 11 W, 620 lumens. Can be installed with dimmers. Energy Star certified. 5-year warranty.

Ecological advantages
Ecological Attributes
This light fixture is ENERGY STAR certified and uses in average 75% less electricity than a conventional model.

By saving energy, you decrease the environmental impacts associated with the generation of electricity.
Environmental Issues
This product is eco-responsible because it reduces the impacts associated with the following environmental issues:
Availability and quality of water
Related Projects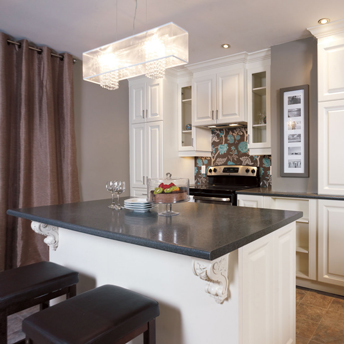 Kitchen lighting
Kitchen lighting should be both functional and decorative. Essential for meal preparation as well as kitchen dining, the lighting you chose should foster a frie...Learn more