Description
This 4 door refrigierator from Electrolux(R) allows you to organize and store your fresh and frozen foods to easily find what you need, making mealtime a breeze. Maximize your freezer storage space, easily organize, and find frozen foods with 4 pull-out freezer bins and 2 pull out freezer drawers. This refrigerator also includes gallon-size bins designed to store more, so you can fit a variety of beverages. This appliance is backed by a 1-year limited warranty.
Product specifications
Number of Refrigerator Shelves
Frequently bought together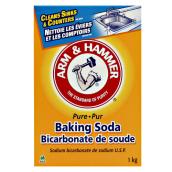 ARM & HAMMER
Baking Soda
Format 1KG
Details
Article #53975001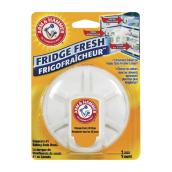 ARM & HAMMER
"Fridge Fresh" Refrigerator Air Filter
Details
Article #53975000
Does it have a door open alarm?
Yes. It will alarm if door has been open for a few minutes..its awesome! Especially with children!!
Date published: 2019-07-09
is it fingerprint resistant
Yes. It is quite resistant to fingerprints.
Date published: 2019-05-03
What is the height to top of case at back of fridge? Thank you
Hi Jeremyh. The height, including hinges and rollers, is 70". To the top of the actual cabinet is 69 1/8". Hope this helps. Thx - Anna
Date published: 2019-02-20
Is it a real stainless steel refrigerator? What is the actual color?
Hi Apron. This refrigerator has a stainless look, it is not real stainless steel. Kindly, Anna
Date published: 2018-09-14
Can an ice maker be installed in the freezer?
Hi Thopper! Thank you for your inquiry. In researching, we are not showing that an ice maker can be installed with this model. We hope this helps. -Thanks!-
Date published: 2019-04-14
What are the dimensions of the fridge? How wide is it?
4-Door Refrigerator - 33" - 17.4 cu. ft. - Stainless Steel
is rated out of
5
by
79
.
Rated

5

out of

5
by
Dordor
from
Love it , Love it
It is sleek,and has a minimalistic new look. It will match my new handle-free integrated kitchen cabinet. It is the best counter-depth refrigerator on the market. It is not noisy , it is a lot calmer than my old one. I love that it has no water dispenser. I love that It has enclosed heat ventilator on both side of the refrigerator. Now I don't have to clean and vacuum the back of the refrigerator wire net every year. My 30 years old French door Frigidaire is still working strong perfectly in my patio. It have never had any problem. I trust the Frigidaire refrigerator performance. [This review was collected as part of a promotion.]
Date published: 2019-08-29
Rated

4

out of

5
by
ranchrunner227
from
Sleek look with great features
Modern-looking refrigerators with minimal features are hard to come by these days, so I was really happy when I found this fridge. I was looking for a stainless steel, counter-depth fridge with french doors, but I didn't want a water dispenser or large pull-out freezer drawer. This fit the bill exactly. It has everything I need and nothing more, and it does its job well. I've had the fridge for almost a month now and I've only found a few downfalls, all of which are minor: 1) You cannot open the right-hand crisper drawer without opening both refrigerator drawers. 2) Most tall drink cartons do not fit on the shelves, so I have to make room in one of the two door trays for those containers. 2) Every so often the fridge will make a whining noise when it kicks on. It's not very loud, but it's enough to make the cat nervous every time it happens. [This review was collected as part of a promotion.]
Date published: 2018-07-02
Rated

4

out of

5
by
Mark999
from
Elegant Design
Purchased for a small kitchen. It's not easy to find French door refrigerators without ice machines or water dispensers, and since I did not want to run a water line to my refrigerator this fit the bill. I like the fact that there are no handles protruding from the doors; makes for an elegant and sleek look and gives you more space. The lack of handles also makes it super easy to keep the doors clean. I only wish this model was Energy Star compliant. It is not as energy efficient as many refrigerators. [This review was collected as part of a promotion.]
Date published: 2019-01-07
Rated

1

out of

5
by
Ernie90
from
It's the worst
First off, zero water dispenser or ice maker. Second off, the shelves inside the fridge are too short to fit any kind of drink container (even a bottle of beer is too tall to stand upright) which leaves one small holder on each door to hold anything tall. Hardly any space for any condiments that I would normally keep in the door thus they have to go on the shelves. There are only two drawers in the fridge and one of them cannot be opened unless you open both doors. The drawers are helpful in the freezer but hardly any space there. Lets just say I hate this fridge, the functionality is not good. [This review was collected as part of a promotion.]
Date published: 2020-05-14
Rated

4

out of

5
by
TMBa
from
Good Features
We bought this style refrigerator due to the design and functionality. Having two evaporator coils, one for the refrigerator section and one for the freezer section was one of the features I really like. My wife liked the side by side doors and the counter depth design. We went from a larger refrigerator to this one. It fits our lifestyle. The one thing I do not like is the wide temperature swings I have noticed. The refrigerator setting is at 37 and I have had swings in temperature from 31 degrees to 48 degrees. Also the freezer swings in temperature from -5 to 20+ degrees. The high temperature swings I attribute to the defrost cycle. I think a variable speed compressor would help maintain consistent temperatures. Overall my wife and I are pleased with the design, appearance, and functionality of this model.
Date published: 2018-09-18
Rated

1

out of

5
by
Michael Mat
from
Looks nice, but VERY noisy
We purchased this refrigerator 20 days ago and are already experiencing problems. The unit looks nice and fits well into a small kitchen, but beware that it is very noisy.
Date published: 2018-09-20
Rated

3

out of

5
by
Katr123
from
Its Nice, But....
I am using this as an extra refrigerator in my pantry. It would be too small for my everyday fridge. I like the counter depth and the looks. The refrigerator part I like. The freezer is just ok. The pull out drawers are a little awkward and don't slide out very well. And the big thing to me is no freezer light! I have to turn the light in my room on to see in the freezer. So my only disappointment is no freezer light which is a big deal to me, especially for the price!
Date published: 2018-06-04
Rated

4

out of

5
by
akwl
from
Slick, elegant design and great size!
Love the handle-less design. This is one of the rare fridges out there that has kept it simple and minimal. There is just enough space to fit a gallon of milk on lowest rack. Wish it had led lights in the freezer too! That's probably the biggest noticeable con as of now. The other minor annoyance is that you must open both doors to access either of the drawers. No more or less noise than our old fridge. Have had it for about a month now and so far so good! [This review was collected as part of a promotion.]
Date published: 2019-09-02