Description
This Dewalt DWE4011 grinder has a powerful motor designed for faster material removal and higher overload protection. It is equipped with One-Touch(TM) Guard, which eliminates the need for a tool to adjust the guard location - no buttons or levers, just turn the guard to position it. A low profile, jam-pot gear case increases durability and allows tool to fit into tight spaces. The Quick-Change(TM) wheel release allows tool free wheel removal without the need for a wrench, and the 2-position removable side handle provides great comfort and control. Three-year limited warranty.
Product specifications
90 day money back guarantee, 1 year free service contract, 3-year limited warranty
Frequently bought together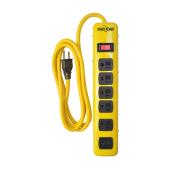 YELLOW JACKET
6-Outlet Power Bar with Surge Protection - 6' - Yellow
Format 1.8M
Details
Article #32045053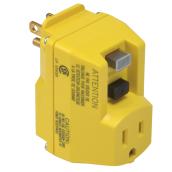 YELLOW JACKET
Single Outlet Portable GFCI Adapter - 1800 W - 15 A
Details
Article #32045050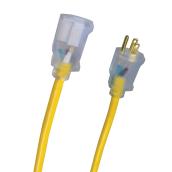 WOODS
12/3 Extension Cord - 25' - Red
Format 12/3 25'
Details
Article #74045239
Does this grinder come with a bag or case
Angle Grinder - 4 1/2" - 7 A
is rated out of
5
by
81
.
Rated

5

out of

5
by
Doc4056
from
Great tool for cutting/grinding sidewalk blocks
This product was a great purchase - good price and great tool. I needed to grind the edges of two sidewalk blocks - and gut a three foot by one foot whole in another block - all 4 inches deep. I was quoted a price of $150 to rent a grinder for a day from my local tool rental shop. This tool plus a cement grinder wheel and a cement cutter was under $150. Cut through 4 inches of concrete with ease - and grinded the edges like I was sanding a piece of wood. I highly recommend this product. Easy to use - no assembly required. But for concrete use - you definitely want to remember your safety gear!
Date published: 2016-08-07
Rated

5

out of

5
by
NomadGlenn
from
Man , this little machine screams power!
I am very happy with my investment. Was suprised at its strength and durability . My son has a race-car , so we have a lot of fab work. He keeps my 14" DeWALT chop saw at his house . A while back I had a little project , so I picked this little devil up . Man I'm glad I did . Small investment , works just as well as the heavy models , light weight , hi speed -11,000 rpm, very in-expensive , and standard size , so lots of available wheels and brushes waiting for you to pick up and tackle that project ! Good job DeWALT , and good price Lowe's , you are the best !
Date published: 2013-01-04
Rated

4

out of

5
by
HolbrookJoe
from
good angle grinder at a good value
never owned an angle grinder but found I needed one to cut ceramic tile in a semi-circle (due to a round corner). the DeWalt made short work of the job, especially considering these were not ordinary ceramic tiles. They were Snapstone (floating floor system) which are thicker than most ceramic tile and have a 1/4" of hard rubber backing, tabs, and 'feet' for self-leveling. The DeWalt angle grinder worked fine using a DeWalt 4" XP4 wet / dry diamond blade. I had an assistant spray water from a small spray bottle toward the cut / blade as I was cutting. This kept the blade from overheating. Also convenient was the lever DeWalt designed to easily rotate the blade guard to different positions vs having to remove a set screw, etc on other models. Would recommend this product.
Date published: 2013-12-07
Rated

5

out of

5
by
Diymaster
from
Great value
I was looking several other brands for a while and then managed to afford the 100$ grinder- DeWalt. My main use for the grinder was to sharpen my axe and mower blades and to cut metal on occasion. My friend has the one with the paddle switch and bigger motor but didn't need all that. I am very glad I chose the smaller one because it does just what I need.
Date published: 2016-03-27
Rated

3

out of

5
by
Nicook30
from
It's an OK hand grinder
I purchased this grinder b/c I own other DeWalt product and have never had an issue with any of them. At the time I purchased this grinder my decision was based on the band name but mostly on price. I is a good grinder but the reason for only 3 stars is I do not like the sliding power switch. I wish I would have sent the extra money at the time of purchase and bought the grinder with the "paddle" power switch. It is a better design when it comes to safety. Here in our fab shop we only buy hand grinders with paddle switches. So in my personal opinion DeWalt makes a good grinder but I would only recommend purchasing hand grinders with a paddle power switch.
Date published: 2015-01-14
Rated

5

out of

5
by
Tree
from
Great replacement grinder!
My new previously unused similar grinder from H. Freight died on me in the middle of cutting off some factory rivets securing a bracket on my truck's frame. Cut the heads off of only three rivets when the thing almost caught on fire. My new DeWalt cut through the remaining rivet on that bracket with ease and went on to cut the heads off all four rivets on the matching bracket on other side of frame without even getting warm, much less hot. Great product built like a tank. Get one!
Date published: 2017-12-13
Rated

5

out of

5
by
WildHorses
from
Great Tool!
This tool works good and can be used for many purposes. Very powerful and seems to be well constructed. I would recommend it to all of my friends.
Date published: 2013-12-25
Rated

5

out of

5
by
R1DC
from
Excellent tool
This is my first grinder, so I don't have a lot to compare it to. However, I'm a big fan of DeWalt tools and this one does not disappoint. It's the smaller of two amperages available and suits me perfectly; at most, I'd say my grinding duties are light and infrequent. Still, with the diamond tip DeWalt 4.5" blade, it cuts beautifully through porcelain tile. It's *relatively* light, and doesn't tire the arm if you're working on something not on the floor.
Date published: 2013-10-04