Description
Bring versatility to your meal planning with this GE Built-In Electric Cooktop. Four radiant elements on the easy-clean cooktop cook food quickly and evenly. The SyncBurner feature lets you control two 7-inch elements at the same time, ideal cookware or griddles. A dual 6-inch/9-inch expandable element accommodates various sizes of pots and pans and features 3100 watts of power to provide rapid heat for quick boiling. The 6-inch element has a low-heat setting that keeps food warm until ready to serve. A kitchen timer provides convenience, while heat-indicator light and control lock ensure safety. The cooktop features digital touch controls that offer accurate and precise heating control.
Product specifications
Hot Surface Indicator Light (Y/N)
Left front: 7" - 1500 W sync element, left rear: 7" - 1500 W sync element, centre: 6" - 1200 W, right: 6"/9" - 3100 W PowerBoil(TM) dual-ring element
Number of Burners/Elements
Frequently bought together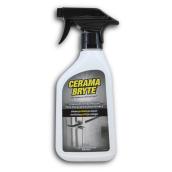 CERAMA BRYTE
Stainless Steel Cleaner
Format 474ML
Details
Article #8307003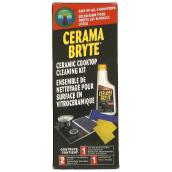 CERAMA BRYTE
Ceramic Cooktop Cleaning Kit
Details
Article #83075006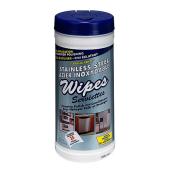 CERAMA BRYTE
Stainless Steel Cleaning Wipes
Format 35/PK
Details
Article #8307005
30" Electric Built-in Cooktop - Stainless Steel
is rated out of
5
by
333
.
Rated

1

out of

5
by
cdhbucky
from
Stovetop evaluation
I have purchased this product several months ago, and we are VERY disappointed with it, especially the engineering design. Three things: 1) The 4 burners are poorly placed on the stove top, especially making the large back burner hard to reach. 2) The controls in the front of the stovetop are very difficult to read without a light directly shining upon them. The colored printing under the subsurface should be printed much darker. 3) The controls are complicated to use, turn off and on, adjust the heat, etc. The burner thermostats are inconsistent. This is not the quality of product I would expect from GE!
Date published: 2016-02-10
Rated

1

out of

5
by
jujae1217
from
"Fit Guarantee" is a joke and misleading
I've got this because of GE's "Fit Guarantee" advertisement. Well, it didn't fit. The cutout was fine but there were 4 screws on the side that got stuck. I spoke with the customer service (Jacob and his supervisor Rachel?) and I asked them about the "Fit Guarantee" being misleading and they basically admitted that its an way to drive sales and I told to return the item. They have a 100$ reimbursement to adjust the cutout but 1) this is only for professional job 2) it will take a couple of days for somebody to come over and 3) the quotes I got was way more than 100. [This review was collected as part of a promotion.]
Date published: 2019-01-21
Rated

4

out of

5
by
DIY homeowner
from
Efficient cook top with easy to use controls.
This cook top was easy for my wife and I to install. The directions were easy to follow and the unit fit into the counter top cut out. The unit is easy to use and the controls are finger touch sensitive. The only consideration others may have is that the right front double burner is set back further than some other units. Lastly, before purchasing this unit, you will need to measure the depth of the electrical unit on the underside of the cook top. This depth may impact the use of a drawer that might be below the cook top. Despite this issue, my wife and I "adapted" the drawer below the cook top and it works great.
Date published: 2020-02-04
Rated

4

out of

5
by
Rosario
from
So far so good
I bought this one to replace an old cooktop. We just put it in today and love the knobless look of it. It was a lot bigger (underneath) than I thought. I have draws under my cooktop for my pots and have to be careful now how I stack them until hubs can get a piece of wood to protect the cooktop from underneath. We are still playing with it and getting to know it but so far so good. I was not sure if it bridged and see now that I can sync the two close burners, hubs loves that for his long pancake pan. I was nervous with the amount of space there will be for my big pots but so far it looks like they will all fit fine.No complaints from here.
Date published: 2015-09-23
Rated

5

out of

5
by
RLAD
from
GE glass cook top
The appliance looks excellent and fitment was great. I had it installed and it went in well, contrast to other reviews, if you measure the opening and read the specs this dropped right into the opening in my granite countertop. Also those people that commented that the cook top turns on when cleaning the appliance apparently do not understand that if you lock the stove it will not turn on when you wipe it off. Can they read the owners manual before writing a review????? It heats up fast and cooks well and I find it is easy to keep clean with the provided cleaning kit. Got it on sale, an excellent purchase just in time for the holidays.
Date published: 2019-12-20
Rated

4

out of

5
by
Mountaineer Momma
from
Mountaineer Momma
The GE Cooktop is very nice. I like the features of the touch on/off controls. It makes cleanup easy. This cooktop was a replacement for a 23 year old GE downdraft cooktop. The installation created some extra work to make the unit fit properly. I would recommend ordering the trim kit when you order the cooktop unit if you are replacing your cooktop. I wasn't aware of the trim kit until we were ready to install the cooktop. We had to halt our installation and order the trim kit and then wait on it to arrive. This added an extra week to our installation. Not sure why the trim kit isn't just included with the purchase of the cooktop.
Date published: 2020-05-20
Rated

4

out of

5
by
Terry2099
from
Easy to install but size is not industry standard
Just installed the cook top. It is a replacement for an existing LG 5 burner cook top. Only thing I do not like is the top on all of these are not a standard size. Wee have granite countertops and this glass top is about 1/2" smaller in width than all the other 30"models, but you would not know that and would assume all 30" cook tops would all have the same cut out or at least have glass a standard size to cover the opening. So I had to do some artistic fill in to cover the 16th" gap it leaves at the edges. Thank God for high temp black rtv gasket maker that matches the granite. I will update this review after a few months of use.
Date published: 2017-12-27
Rated

4

out of

5
by
Philsaudio
from
Touch Control a little sensitive
I replaced a radiant glass cook top with protruding knobs with this one to get a little extra counter top space. Turns out the controls are super sensitive, which is why they put a lockout control on it. Unfortunately the lockout only works when all burners are off; and this is great so no one lights the buffet on fire when the unit is used as a counter top, but if I try to lock the controls when a burner is on, as to not hit it accidentally while cooking, it will turn off all the burners. Not thought out very well IMHO. Next is the timer. Oh I assumed this would time a burner to turn off. Not so just another electronic egg timer. I seems to cook ok.
Date published: 2019-04-01