Description
Great for drying small and large laundry loads, this Whirlpool high-efficiency gas steam dryer easily handles everyday clothing items and bulky items like comforters. It has 3 temperature selections and 13 drying cycles, including a Steam Refresh cycle that relaxes wrinkles and reduces odours. The AccuDry(TM) sensor drying system measures moisture and temperature levels to help reduce damage caused by overdrying and automatically stops the cycle when the load is dry. The dryer has a handy end-of-cycle signal that lets you know when clothing is dry. The Wrinkle Shield(TM) function tumbles clothes periodically to keep wrinkles from setting in so your laundry comes out looking its best. Pedestal sold individually.
Product specifications
Reversible Door Swing (Y/N)
Flexible Aluminum Duct (12245451/FX0456MC); Steam Dryer Connector Kit (01735521/3244-920) - Items sold separately
10 min Air Dry, 20 min Air Dry, 30 min Air Dry, Energy Preferred, Less Dry, Steam Refresh, Timed Dry 10, Timed Dry 20, Timed Dry 30, Timed Dry 40, Timed Dry 50, Timed Dry 60, Very Dry
(3) Dry Temp, End of Cycle Signal, Wrinkle Shield™
Frequently bought together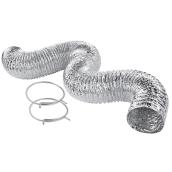 IMPERIAL
Flexible Foil Ducting with Clamps - 4" x 8'
Format 4x8'
Details
Article #12245451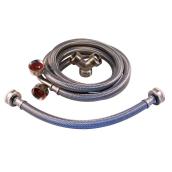 AQUA-DYNAMIC
Steam Dryer Connector Kit - 3 Pieces
Format 3PC
Details
Article #01735521
29" Gas Dryer with Steam- 7.0 cu. ft. - White
is rated out of
5
by
433
.
Rated

3

out of

5
by
JR
from
Great dryer, horrible door handle...
I bought this dryer based on the good reviews and pull down door. The dryer dries clothes well and I like the sensor drying. As some other reviewers mentioned, the steam dry feature really does wet the clothes so I don't use it often. It does come in handy when I have work clothes that I need to refresh but don't have time to rewash. That being said, I would not recommend this dryer because of the poorly made door handle. It is a cheaply made piece of plastic with little plastic tabs that snap into an opening on the dryer door. It has been replaced twice in 6 months. With 3 children, I use my dryer frequently, but I had my last dryer for 15 years and never replaced a door handle. Thankfully, I'm still under warranty. After the warranty expires, the door handle costs $27 to replace.
Date published: 2016-06-20
Rated

4

out of

5
by
Alice
from
Steam Function Requires Additional Plumbing
One reason we chose this dryer was for the steam functionality; we did not know that it required additional plumbing to hook up the water supply to it. Yes, it makes sense, but did not think out that when we purchased it and it was not included in the delivery and hook up details.
Date published: 2016-08-21
Rated

4

out of

5
by
Nancy
from
Time to replace my 23 year old dryer!
So far I'm loving this new dryer! My old dryer lasted 23+ years, and served us well, but went ka-put. Amazing how new technology, even in a gas dryer can make such a difference! This dries my clothes in about a third of the time I'm used to! Love the wrinkle guard feature, as my laundry is out in the garage, and I don't always get to it the minute it's done. I've tried the "steam" feature...just once, to try it out, and I must agree with one of the other commenters..it seems to just squirt water on the clothes, then dry them. I thought it would be steam....but, I do need to read the manual, and try again. Overall, this is a great dryer, does it's job quickly! The best feature is the drop down door! (they call it a hamper door) So hard to find anymore, and it is the ONLY reason I chose this dryer! Love having the door as a 'catcher' for my clothes coming out of the washer...nothing hits the dirty floor. Also great for holding folded clothes as they come out of the dryer! I highly recommend this dryer!
Date published: 2015-04-28
Rated

2

out of

5
by
None
from
Stopped working after one year
I bought this whirlpool gas dryer on January 15 2016 at Lowes 8411 s. holland chicago. This dryer stopped working February 24,2017. No warning sign. I usually don't like repairing appliances and I don't buy store warranty. Just disappointed this will last only one year. $711.23 wasted. Looking for another dryer. Let me also say it worked well and was energy efficient for the 13 month the appliance worked.
Date published: 2017-03-05
Rated

5

out of

5
by
Emiley
from
Efficient powerful dryer to meet all needs
We needed a more efficient dryer to replace an older electric dryer which came with the house we purchased. This Whirlpool dryer dries laundry loads in half the time it took our old dryer.We can do back to back washes and drying! Our gas bill is miniscule! Some of the best features are the Energy Preferred setting to dry clothes exactly in the time needed, the Wrinkle Shield to keep tumbling your clothes after the cycle is completed until you get to the dryer, and the Steam Refresh to take out wrinkles from sweaters or clothes from a suitcase. [This review was collected as part of a promotion.]
Date published: 2016-08-08
Rated

5

out of

5
by
G-town girl
from
Love the drop down door!
We purchased this dryer to replace our 32 yr. old Maytag. This dryer dries clothes faster and love the AccuDry sensor setting! We hadn't hooked up the water for the mist dry yet. Our Maytag had a swing open door but really love this drop down door. I would definitely purchase this one again. What I do miss about the Maytag dryer is the lint screen was inside the door ledge. Much easier to clean, but I am slowly getting use to top filter design. I would highly recommend this dryer, you won't be disappointed. [This review was collected as part of a promotion.]
Date published: 2018-02-19
Rated

5

out of

5
by
Sassy54321
from
I Love This Dryer!!
I waited for 4 months before posting a review. This dryer does a fantastic job!!! It is the first dryer I've ever had that when you set it for All Dry, the clothes actually come out completely dry!! I love the feature that repeats the tumbling every few minutes to keep things from wrinkling in case I'm in the middle of something when it's done!! I highly recommend this dryer to anyone who wants a dryer that works really well and the brand is a brand that I trust!! Whirlpool is still an excellent choice in appliances (I bought the matching washer too). I actually enjoy doing the laundry these days!!! :-) [This review was collected as part of a promotion.]
Date published: 2020-09-09
Rated

4

out of

5
by
EMScles
from
Service and Attention by Lowe's Employees
Frankly, how can someone go wrong with a Whirlpool Gas Dryer. That said, the attention to detail and professional service provided by Lowe's employees is what made this transaction high value. Thank you !!
Date published: 2014-11-06