REDUCE THE IMPACT OF OUR OPERATIONS
RONA is committed to responsible operations over and above its efforts to reduce the environmental impacts of the products it sells or distributes. This is why we also ensure that we minimize the impact of our activities on the environment.
Greenhouse gas reduction (GHG)
Climate change is a major environmental issue. As a responsible business, we try to limit the energy consumed by our distribution and operating activities in our network of corporate stores.
Measures implemented in our corporate stores include reducing greenhouse gas emissions. For example:
We have optimized the lighting in our stores and distribution centres.
In our stores we have reduced levels of heating in the winter and air conditioning in the summer.
We encourage employees to adopt more environmentally responsible behaviour.
We optimize our transportation routes to limit fuel consumption.
Waste reduction
RONA is committed to managing the waste generated by its distribution and retail operations. This includes having implemented a recovery program and ensuring proper waste management.
Product recovery
In 1997, RONA created Canada's first paint recovery and recycling program in Quebec. Since 2011, this service is offered in most of RONA's corporate, franchise and affiliate retail stores across Canada.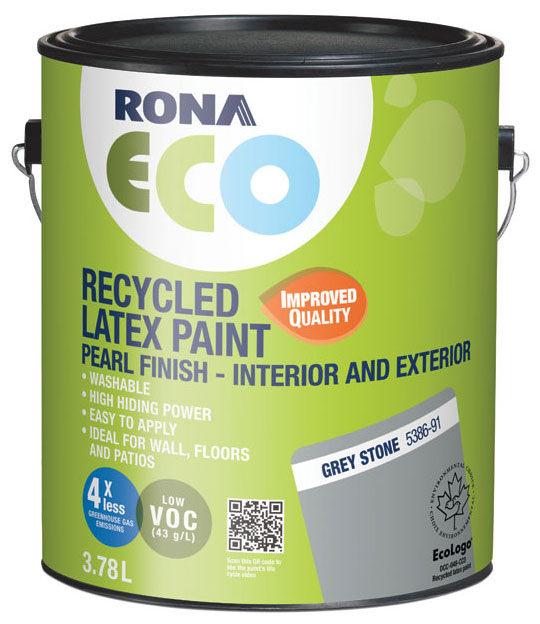 RONA stores have therefore been recovering unwanted paint from their customers for over 20 years, diverting over 3,000,000 kg of recovered paint from landfill sites each year. Since 2008, most of this paint has been recycled in Quebec and used to produce RONA ECO paint.
Today, RONA also offers customers a service for recovering compact fluorescent light bulbs, fluorescent tubes and batteries in most of its stores across Canada. For more information on the products accepted and your closest drop-off point, consult the following list.
Important:
RONA only takes accepted products appearing on this list. Any other product may be returned to your municipality's recycling depot. All drop-offs must be during business hours, and always under the supervision of an employee. Only residential drop-offs are accepted, and a store may refuse products if it considers the use abusive.

Management of waste from our operations
For several years RONA has promoted source reduction, recycling and recovery of waste produced by its operations. With the collaboration of most of its corporate, franchise and affiliate retail stores, RONA recovers many materials such as cardboard, paper, plastic, wood, glass, metal, gypsum, compost and concrete and ensures proper management of its hazardous waste.
Better use of paper products
RONA strives to promote responsible procurement and use of paper products by encouraging:
The use of paper with postconsumer recycled fibre content and certified virgin fibre
Reduced paper consumption